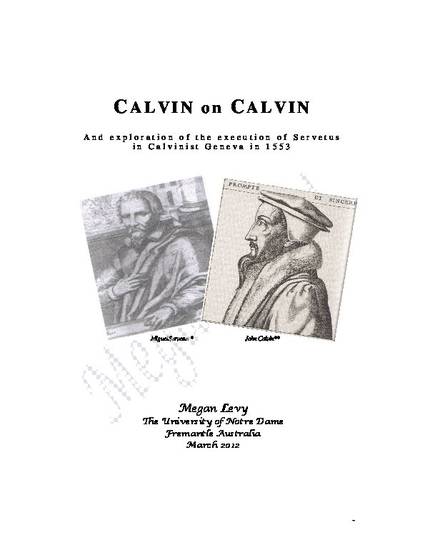 Unpublished Paper
Calvin on Calvin
(2012)
Abstract
The execution of Servetus in Calvinist Geneva in 1553 is an historical event where religious aspects merge with social, political, economic, and personal interests in a colourful mosaic where emotions set the tune. This event which divided friends and brought together enemies has been accounted for from various points of view were John Calvin is portrayed either as a villain or as just "little more than a child of his age". Calvin justifies Servetus tragic end (and perhaps his own actions), writing his Defence of the Orthodox Faith, immediately after the event, and declaring that regardless all human feelings, in cases of heresy, the glory of God must be maintained. In his writings, Calvin provides us with not only an "idea" of the particular religiosity of his times, but with a small gap from where to look at a more intimate Calvin.
Through his writings Calvin allows us a glimpse of the inner Calvin, the monumental figure of a hard working, dedicated, and determined Reformer, held within a body assaulted by infirmities derived from stress and tension, a tormented soul with a feeble trust in God.
Though we cannot judge Calvin harshly or in depth just from his writings, we can propose that his personality might have contributed to Servetus execution. And that possibly yes, he was a child of his era, one who fall victim of his own purposes and task in life. For, although Calvin and Geneva were congratulated and applauded for the execution of Servetus, we may never know if these reactions were sincere or born out of fear as others could see the extremes Calvin could go to. Castellio not in fear but in truth wrote: "To burn a heretic is not to defend a doctrine, but to kill a man".
Keywords
Calvin,
Servetus,
Jungian psychology,
The Shadow
Publication Date
Summer March 3, 2012
Citation Information
Megan Levy. "Calvin on Calvin" (2012)
Available at: http://works.bepress.com/megan_levyliho/4/