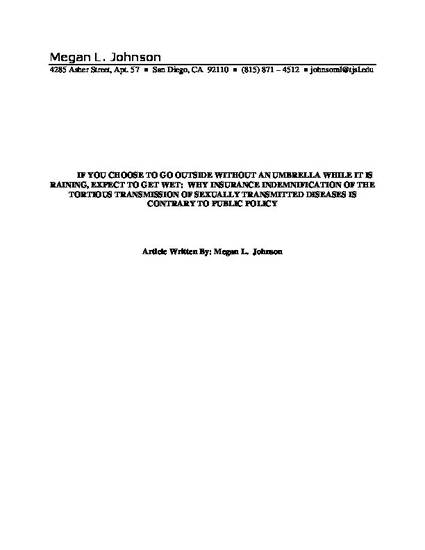 Unpublished Paper
IF YOU CHOOSE TO GO OUTSIDE WITHOUT AN UMBRELLA WHILE IT IS RAINING, EXPECT TO GET WET: WHY INSURANCE INDEMNIFICATION OF THE TORTIOUS TRANSMISSION OF SEXUALLY TRANSMITTED DISEASES IS CONTRARY TO PUBLIC POLICY
ExpressO (2008)
Abstract
As last reported by the Centers for Disease Control and Prevention in 2005, at least nineteen million people will contract a sexually transmitted disease (STD) annually, costing the United States $1.4 billion a year. Many victims will contract a disease from someone who knew or should have known that he or she was a disease-carrier, and thus the transmission could have been avoided with proper notification and protection or abstinence.
The STD epidemic has led to an increase in litigation over STD transmission and insurance indemnification of the damages. Insured tortfeasors who transmit STDs turn to their insurance policies for indemnification after they lose a torts lawsuit. Some insurers are able to refuse coverage under one of their policy exclusions while other attempts to exclude coverage have failed due to ambiguities in policy language. Court interpretations of exclusions in this area of law have yielded inconsistent results. Compounding the confusion of coverage is the judicial split regarding whether it is against public policy to indemnify STD transmission.
The topic of my article focuses on insurance indemnification of persons who tortuously transmit sexually transmitted diseases to others. Specifically, I advocate for a complete prohibition of indemnification of sexually transmitted diseases (STDs) when they are transmitted with any degree of knowledge because it is against public policy to indemnify this wrongful behavior. I believe my submission is novel and contributes greatly to the legal scholarship in this area, as venereal diseases are becoming increasingly problematic. My proposal to prohibit insurance indemnification of carriers who knowingly or negligently transmit venereal diseases supplements the extremely necessary STD prevention efforts.
I argue that with a clear, unambiguous insurance policy exclusion in place to hold the tortfeasor personally responsible instead of indemnifying his or her knowing or negligent actions, he or she will be less likely to engage in risky behavior in the future. The tortfeasor will be more likely to take protective measures or abstain from sexual activity in the future without full disclosure and informed consent, resulting in an overall decrease in STD transmissions. This proposal serves as one way to aid in the efforts to combat further STD spread.
Keywords
insurance indemnification of sexually transmitted diseases,
sex torts,
insurance policy exclusions
Publication Date
January 16, 2008
Citation Information
Megan L Johnson. "IF YOU CHOOSE TO GO OUTSIDE WITHOUT AN UMBRELLA WHILE IT IS RAINING, EXPECT TO GET WET: WHY INSURANCE INDEMNIFICATION OF THE TORTIOUS TRANSMISSION OF SEXUALLY TRANSMITTED DISEASES IS CONTRARY TO PUBLIC POLICY"
ExpressO
(2008)
Available at: http://works.bepress.com/megan_johnson/1/