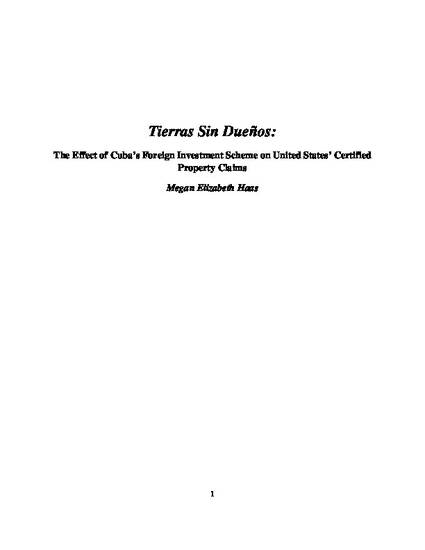 Unpublished Paper
Tierras Sin Dueños: The Effect of Cuba's Foreign Investment Scheme on United States' Certified Property Claims
ExpressO (2008)
Abstract
This comment seeks to analyze the current trend in foreign investment in Cuba and its effects on the potential settlement of U.S. certified property claims. Furthermore, this article will present a unique alternative for settling the property claims that will benefit both Cuba and U.S. commercial interests. The current state of foreign investment in Cuba presents a catch-22 for investors because the property system is so encumbered as to make it unattractive to invest in Cuba, although some companies are beginning to see the benefits and reap the rewards. As a result of recent political changes on the island, the demand for tourism-related real estate developments, commercial office space, and infrastructure-related projects will continue to increase, making Cuba one of the most lucrative new investments in the Western hemisphere. The ability for foreign investors to partake in these profitable ventures has the potential to benefit Cuba as well. Regrettably, 5,911 certified property claims and an obsolete foreign policy present another hurdle that inhibits Cuba's chance to attract more foreign investment, especially from its capitalist neighbor. Future political shifts in Cuba and the U.S. will provide a platform for opening up talks about compensating the confiscated property owners. Fostering Cuba's economic growth and giving the claimants an opportunity to flourish with the island should be among the main goals of settlement.
Publication Date
June 7, 2008
Citation Information
Megan Elizabeth Haas. "Tierras Sin Dueños: The Effect of Cuba's Foreign Investment Scheme on United States' Certified Property Claims"
ExpressO
(2008)
Available at: http://works.bepress.com/megan_haas/1/