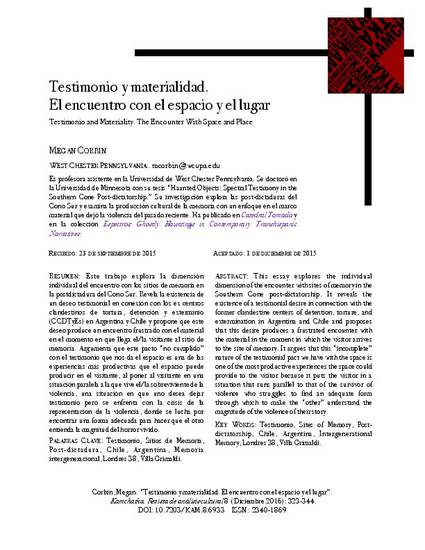 Article
Testimonio y materialidad. El encuentro con el espacio y el lugar (Testimonio and Materiality. The Encounter With Space and Place)
Kamchatka. Revista de análisis cultural
Publication Date
12-1-2016
Abstract
This essay explores the individual dimension of the encounter with sites of memory in the Southern Cone post-dictatorship. It reveals the existence of a testimonial desire in connection with the former clandestine centers of detention, torture, and extermination in Argentina and Chile and proposes that this desire produces a frustrated encounter with the material in the moment in which the visitor arrives to the site of memory. It argues that this "incomplete" nature of the testimonial pact we have with the space is one of the most productive experiences the space could provide to the visitor because it puts the visitor in a situation that runs parallel to that of the survivor of violence who struggles to find an adequate form through which to make the "other" understand the magnitude of the violence of their story.
Publisher
University of Valencia
Citation Information
Megan Corbin. "Testimonio y materialidad. El encuentro con el espacio y el lugar (Testimonio and Materiality. The Encounter With Space and Place)"
Kamchatka. Revista de análisis cultural
Vol. 8 (2016) p. 323 - 344 ISSN: 2340-1869
Available at: http://works.bepress.com/megan-corbin/7/