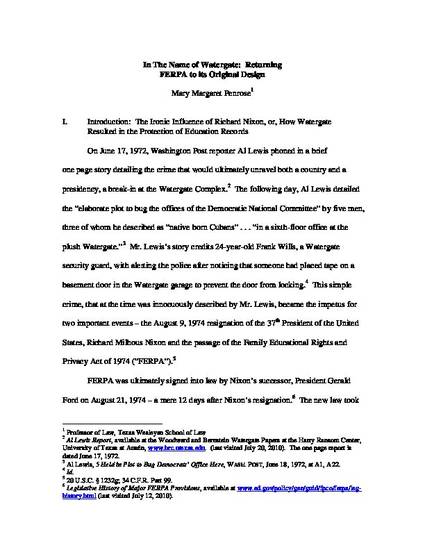 Unpublished Paper
In the Name of Watergate -- Returning FERPA to its Original Design
ExpressO (2010)
Abstract
The attached article, entitled "In the Name of Watergate: Returning FERPA to its Original Design" details the Watergate effect on federal privacy legislation, particularly the Family Educational Rights and Privacy Act (FERPA). Senator James L. Buckley, a one-term Senator from New York, served as the architect for what remains the most important education privacy law in existence. However, Senator Buckley recently discussed the reasons that this law should be "clarified" and returned to its original design. I wholeheartedly agree. In the digital era, we must zealously protect privacy with effective legislation that guards both the collection and release of personal records. The piece is part history, part tribute to the efforts of Senator Buckley and part call to action for Congress.
Keywords
Watergate,
FERPA,
Senator Buckley,
Privacy
Publication Date
July 30, 2010
Citation Information
Mary Margaret Penrose, "In the Name of Watergate -- Returning FERPA to its Original Design," forthcoming in the NYU Journal of Legislation and Public Policy, February 2011.