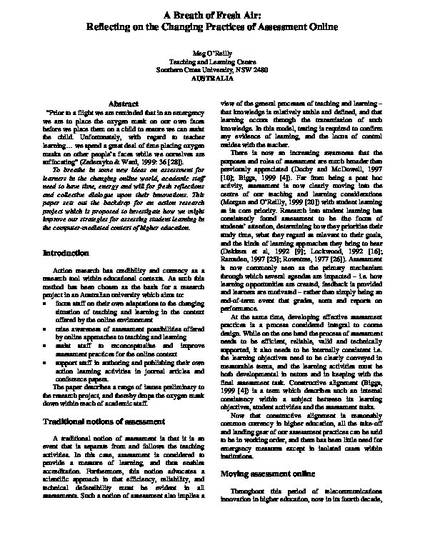 Presentation
A breath of fresh air: reflecting on the changing practices of assessment online
International Conference on Computers in Education, ICCE 2002
Document Type
Conference publication
Publication Date
1-1-2002
Abstract
Prior to a flight we are reminded that in an emergency we are to place the oxygen mask on our own faces before we place them on a child to ensure we can assist the child. Unfortunately, with regard to teacher learning. ..we spend a great deal of time placing oxygen masks on other people's faces while we ourselves are suffocating" (Zederayko & Ward, 1999: 36 [28]). To breathe in some new ideas on assessment for learners in the changing online world, academic staff need to have time, energy and will for fresh reflections and collective dialogue upon their innovations. This paper sets out the backdrop for an action research project which is proposed to investigate how we might improve our strategies for assessing student learning in the computer-mediated context ofhigher education.
Citation Information
O'Reilly, M 2002, 'A breath of fresh air: reflecting on the changing practices of assessment online', in R Kinshuk, R Lewis, K Akahori, R Kemp, T Okamoto, L Henderson & CH Lee (eds),
Proceedings of the International Conference on Computers in Education, ICCE 2002
, Auckland, NZ , 3-6 December, IEEE Computer Society, Los Alamitos, CA, pp. 1030-1034.