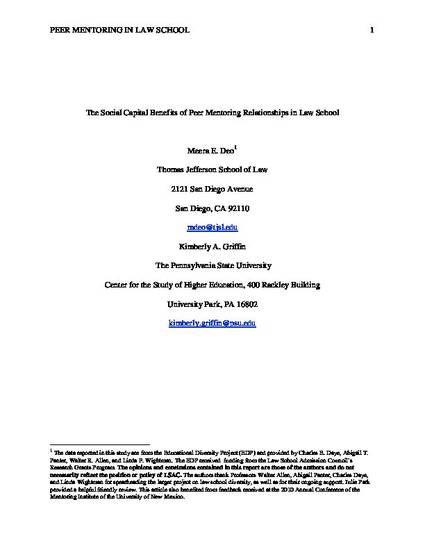 Unpublished Paper
Social Capital Benefits of Peer Mentoring Relationships in Law School
ExpressO (2011)
Abstract
Scholars have addressed the rigors of law school and suggest mentorship may help students better navigate their educational environments. However, literature largely addresses the role of faculty mentors, less often considering peer mentors in the law school context. This study explores first year law students' motivation in forming peer mentoring relationships and the roles peer mentors play in students' lives. Analyses of survey and focus group data collected from 203 first-year law students at 11 institutions reveal that the majority rely on peer support, forming formal, informal, and "organizational" peer mentoring relationships. Relationship formation is motivated by students' acknowledged need for help transitioning into law school, a lack of formal academic advising, and the discomfort associated with seeking faculty assistance. Mentoring relationships also represent an important form of social capital for new students, introducing them to the academic rigors of law school while also offering individualized social support.
Keywords
legal education,
mentorship,
social capital,
law school
Publication Date
August 9, 2011
Citation Information
Meera E Deo and Kimberly A Griffin. "Social Capital Benefits of Peer Mentoring Relationships in Law School"
ExpressO
(2011)
Available at: http://works.bepress.com/meera_deo/3/