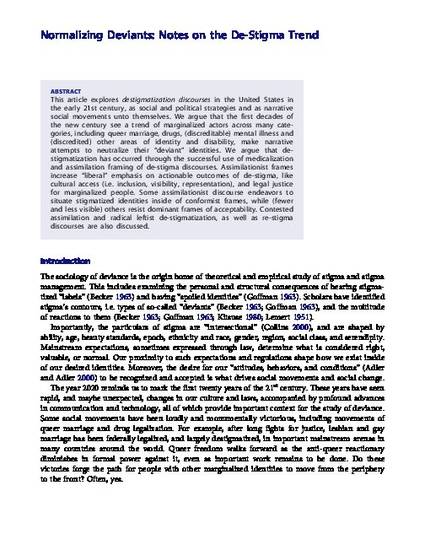 Article
Normalizing Deviants: Notes on the De-Stigma Trend
Deviant Behavior
Publication Date
1-1-2020
Abstract
This article explores destigmatization discourses in the United States in the early 21st century, as social and political strategies and as narrative social movements unto themselves. We argue that the first decades of the new century see a trend of marginalized actors across many categories, including queer marriage, drugs, (discreditable) mental illness and (discredited) other areas of identity and disability, make narrative attempts to neutralize their "deviant" identities. We argue that de-stigmatization has occurred through the successful use of medicalization and assimilation framing of de-stigma discourses. Assimilationist frames increase "liberal" emphasis on actionable outcomes of de-stigma, like cultural access (i.e. inclusion, visibility, representation), and legal justice for marginalized people. Some assimilationist discourse endeavors to situate stigmatized identities inside of conformist frames, while (fewer and less visible) others resist dominant frames of acceptability. Contested assimilation and radical leftist de-stigmatization, as well as re-stigma discourses are also discussed.
Creative Commons License
Creative Commons Attribution-NonCommercial-No Derivative Works 4.0 International
Citation Information
Melissa F. Lavin and Medora W. Barnes. "Normalizing Deviants: Notes on the De-Stigma Trend"
Deviant Behavior
(2020)
Available at: http://works.bepress.com/medora_barnes/16/