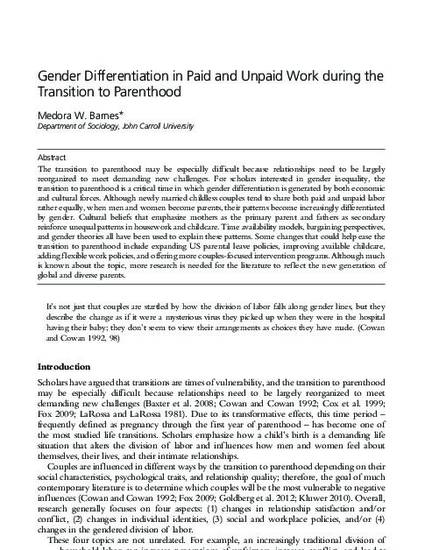 Article
Gender Differentiation in Paid and Unpaid Work during the Transition to Parenthood
Sociology Compass
Publication Date
5-1-2015
Abstract
The transition to parenthood may be especially difficult because relationships need to be largely reorganized to meet demanding new challenges. For scholars interested in gender inequality, the transition to parenthood is a critical time in which gender differentiation is generated by both economic and cultural forces. Although newly married childless couples tend to share both paid and unpaid labor rather equally, when men and women become parents, their patterns become increasingly differentiated by gender. Cultural beliefs that emphasize mothers as the primary parent and fathers as secondary reinforce unequal patterns in housework and childcare. Time availability models, bargaining perspectives, and gender theories all have been used to explain these patterns. Some changes that could help ease the transition to parenthood include expanding US parental leave policies, improving available childcare, adding flexible work policies, and offering more couples‐focused intervention programs. Although much is known about the topic, more research is needed for the literature to reflect the new generation of global and diverse parents.
Citation Information
Medora W. Barnes. "Gender Differentiation in Paid and Unpaid Work during the Transition to Parenthood"
Sociology Compass
(2015)
Available at: http://works.bepress.com/medora_barnes/13/