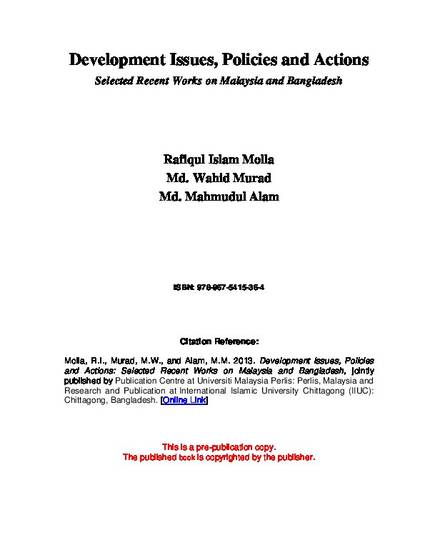 Book
Development Issues, Policies and Actions
(2013)
Abstract
Development Issues, Policies and Actions is intended as a book of readings on development for the general readers and for the undergraduate and graduate students of development as a supplement to the text book on economic development. It is written with materials mostly taken from our recent research works on current development issues and policy actions in Malaysia and Bangladesh. As a result, we believe that the intended readers and students will find the materials fairly known and easier to read and comprehend.
To make the book more reader-friendly, we provided a comprehensive summary at the end of each essay. Readers who are time pressed but want to know the basic contents and the key messages of the essays at the shortest time at hand, can do so by reading the summaries of the essays.
 An additional and
special feature of this book is that it emphasizes on the holistic and ethical aspects of development
. This aspect is least covered by most standard text books on the subject. In that sense this book will serve as a make up for the deficiencies of the text book materials in terms of ethical orientation, essence, and higher goals of development.
We gratefully acknowledge the generosity of the publishers and authors of all the research works from where the materials have been compiled for use in this book. Similarly we are profoundly thankful to all the scholars, particularly to Prof. Golam Dastagir of Jahangirnagar University, Dhaka, and Prof. Munir Quddus of Prairie View A&M University, Texas, for their critical comments on the draft of the book. Specially, we are profoundly thankful and grateful to Prof. Datuk Dr. Syed Othman Alhabshi for writing the scholarly foreword of this book. Finally, we remain thankful to Universiti Malaysia Perlis, Malaysia and the International Islamic University Chittagong, Bangladesh for jointly publishing this book.
Keywords
Environment,
Ethics,
Climate Change,
Globalization,
Agriculture,
Population,
Economic Zone,
Political Economy,
Microcredit,
MFI,
Bangladesh,
Malaysia
Publisher
Publication Centre at Universiti Malaysia Perlis
Citation Information
Molla, R.I., Murad, M.W., and Alam, M.M. 2013. Development Issues, Policies and Actions: Selected Recent Works on Malaysia and Bangladesh, jointly published by Publication Centre at Universiti Malaysia Perlis: Perlis, Malaysia and Research and Publication at International Islamic University Chittagong (IIUC): Chittagong, Bangladesh.