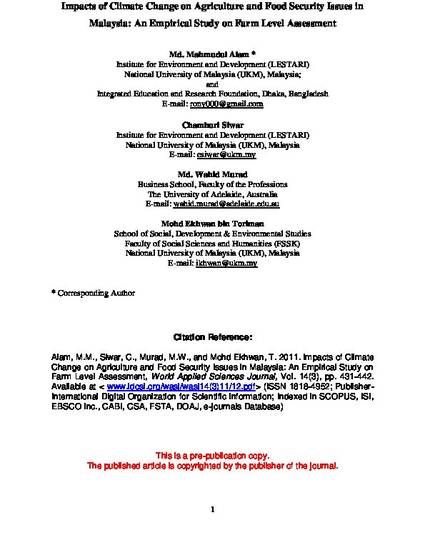 Article
Farm Level Assessment of Climate Change, Agriculture and Food Security Issues in Malaysia
World Applied Sciences Journal (2011)
Abstract
Climate change is proven to have had impacted the agricultural productivity, crop choice, and food security everywhere in the world. The nature, scale, frequency, and outcome of such impact differ significantly among countries, regions and areas within a country. This study is an effort to empirically investigate theses issues for Malaysia using both primary and secondary data collected from and relevant to the Integrated Agriculture Development Areas in the Northwest Selangor. The results reveal that climate change phenomenon such as natural disaster, drought, flood, pest attack, plant disease, and changing the time of crop cycle have adversely been impacting Malaysian agriculture and its productivity as well as profitability. Despite continuous increases of government subsidy as well as permission only for paddy production, the paddy planting area is decreasing as the agricultural farmers often experience adverse impacts of climatic variation. So, climate change phenomenon is also depressingly impacting the state of food security among the farmers. As climate change is universal and its existence is indefinite, the farmers need to adapt to and find ways to mitigate the damages of climatic variation in order for them to sustain agricultural productivity and attain food security.
Keywords
Climate Change,
Agricultural Productivity,
Crop Choice,
Food Security,
Paddy Farming,
Farm Profitability,
Agricultural Sustainability,
Malaysia.
Citation Information
Alam, M.M., Siwar, C., Murad, M.W., and Mohd Ekhwan, T. 2011. Impacts of Climate Change on Agriculture and Food Security Issues in Malaysia: An Empirical Study on Farm Level Assessment, World Applied Sciences Journal, Vol. 14(3), pp. 431-442. Available at < www.idosi.org/wasj/wasj14(3)11/12.pdf> (