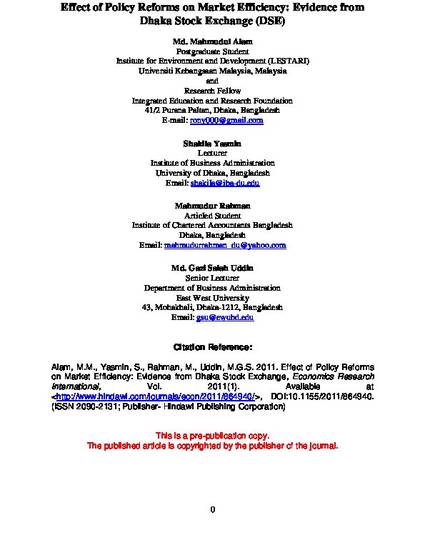 Article
Effect of Policy Reforms on Market Efficiency: Evidence from Dhaka Stock Exchange
Economics Research International (2011)
Abstract
The paper tries to find evidence supporting the impact of continuous policy reforms on the market efficiency on the Dhaka Stock Exchange (DSE). Different policies formed/reformed from 1994 to 2005 were categorized in eleven groups depending on their time of issue and subject matter. To get the result, both non-parametric test (Kolmogrov-Smirnov normality test and Run test) and parametric test (Auto-correlation test, Auto-regression) has been performed. Analyses were done for each policy group, and it is found that formed/reformed policies for DSE during the study period failed to improve the market efficiency even in the weak form level.
Keywords
Market Efficiency; Random walk model; parametric test; non-parametric test; Dhaka Stock Exchange (DSE); Security Exchange Commission (SEC)
DOI
DOI:10.1155/2011/864940.
Citation Information
Alam, M.M., Yasmin, S., Rahman, M., Uddin, M.G.S. 2011. Effect of Policy Reforms on Market Efficiency: Evidence from Dhaka Stock Exchange, Economics Research International, Vol. 2011(1).