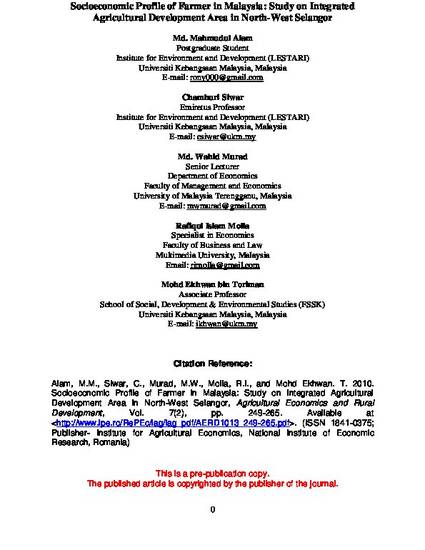 Article
Socioeconomic Profile of Farmer in Malaysia: Study on Integrated Agricultural Development Area in North-West Selangor
Agricultural Economics and Rural Development (2010)
Abstract
Agricultural contribution to GDP in Malaysia has been declining since 1970. The usages of agricultural land are also gradually decreasing. Even within the total agricultural area, most of the land has been used for industrial crops, and the ratio between industrial crops and food crops is increasing. Paddy is the main food crop in Malaysia, but as a low rate of productivity, farmers are engaged on part time basis. Therefore, it seems necessary to know the socioeconomic characteristics of the paddy farmers, their livelihood, and agricultural sustainability for policy implementation and its evaluation. This study analyzes the current profile of the paddy farmers in the Integrated Agricultural Development Area (IADA), North-West Selangor, Malaysia based on primary data. The data was collected through a questionnaire survey. Findings of the study suggest policy recommendations and action plans for the improvement of the farmers' livelihood. The findings of the study are important for the policy makers and relevant agencies.
Keywords
Land ownership; Crop choice; Yield; Machineries; Dependency ratio; Paddy; Malaysia
Publication Date
Spring 2010
Citation Information
Alam, M.M., Siwar, C., Murad, M.W., Molla, R.I., and Mohd Ekhwan. T. 2010. Socioeconomic Profile of Farmer in Malaysia: Study on Integrated Agricultural Development Area in North-West Selangor, Agricultural Economics and Rural Development, Vol. 7(2), pp. 249-265.