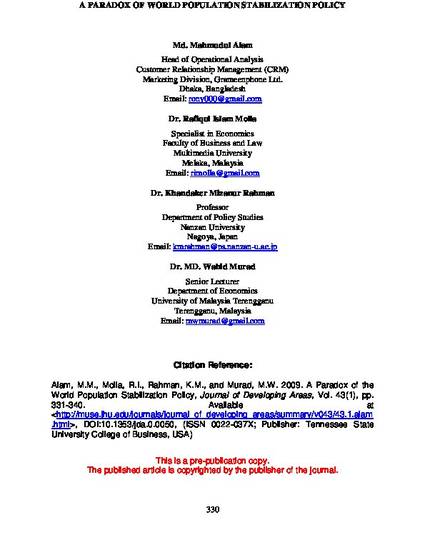 Article
A paradox of the world population stabilization policy
Journal of Developing Areas (2009)
Abstract
Population explosion of the last century necessitated adoption of a population stabilization policy internationally but without due consideration of its paradoxical impacts on future world economic and environmental sustainability and progress of civilization. Population stabilization policy makes world fertility level (projected) to fall below the replacement level by 2043. This will result in a declining work-age population endangering economic and environmental sustainability particularly during 2050 and beyond. This study has made an attempt to highlight this paradox of population stabilization policy in terms of its impacts on economic and environmental sustainability. It analyses the catch of the need for a declining population in order to maintain a stable population. It also analyses the time taking process of changing fertility habit of the human community under the concepts of 'child bearing habitual gap' and 'work-age formation gap'. It argues that for a progressive and sustainable world economy a greater and rising work-age population is required and observes that world needs to maintain population growth at a rate balanced in terms of countries and earth's absorption capacity.
Keywords
Population growth,
paradox,
fertility rate,
work-age population,
dependency ratio,
migration,
environmental sustainability,
environmental competency,
economic sustainability,
technological advancement,
zero-sum game,
'child bearing habitual gap',
'work-age formation gap'.
Publication Date
Winter 2009
Citation Information
Alam, M.M., Molla, R.I., Rahman, K.M., and Murad, M.W. 2009. A Paradox of the World Population Stabilization Policy, Journal of Developing Areas, Vol. 43(1), pp. 331-340.