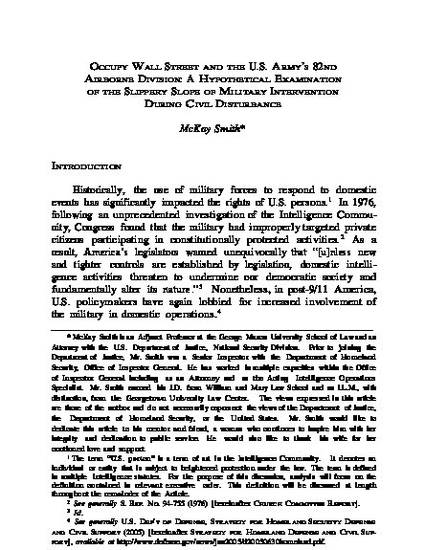 Article
Occupy Wall Street and the U.S. Army's 82nd Airborne Division: A Hypothetical Examination of the Slippery Slope of Military Intervention during Civil Disturbance
George Mason University Civil Rights Law Journal (2012)
Abstract
Throughout 2011, the world was an incredibly angry place. The global economy was in disarray. The streets of Tunisia, Egypt, Libya, and Syria had erupted in unprecedented violence. While Americans watched events spiral out of control abroad, a new movement was taking shape domestically. The Occupy movement is a self-described, nonpartisan protest movement targeting economic injustice and social inequality. At its core, however, many domestic protestors also vocally deride the current state of U.S. politics. This article analyzes the Army's authority to collect information in support of domestic operations, particularly operations aimed at quelling civil disturbance. Historically, the use of the military to respond to domestic events significantly impacted the rights of U.S. persons. In 1975, Congress began a detailed examination of the intelligence community in response to a series of revelations in the media. The Church Committee, as this investigative committee would come to be known, made a number of alarming findings, including the existence of an Army domestic intelligence program that collected information on U.S. persons based purely on their political beliefs. Thus, this article serves as a vehicle for examining the effects of contemporary military intervention on constitutional rights. More importantly, the resulting discussion attempts to answer one important question - are we in danger of repeating the past?
Keywords
government oversight and internal investigations,
intelligence,
constitutional rights,
civil rights,
homeland defense,
civil support,
domestic operational law,
Department of Defense,
U.S. Army,
intelligence law,
national security,
intelligence oversight,
Occupy movement,
First Amendment,
Church Committee,
Executive Order 12333,
DODD 5240.01,
DOD 5240.1-R,
DODD 5200.27
Publication Date
July, 2012
Citation Information
McKay Smith. "Occupy Wall Street and the U.S. Army's 82nd Airborne Division: A Hypothetical Examination of the Slippery Slope of Military Intervention during Civil Disturbance"
George Mason University Civil Rights Law Journal
Vol. 22 Iss. 3 (2012)
Available at: http://works.bepress.com/mckay_smith/15/