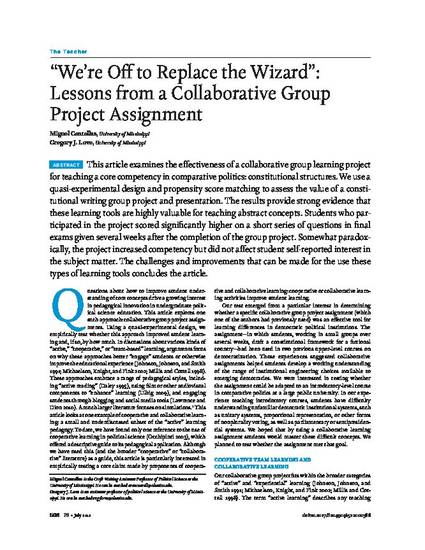 Article
"We're Off to Replace the Wizard": Lessons from a Collaborative Group Project Assignment
PS: Political Science & Politics (2012)
Abstract
This article examines the effectiveness of a collaborative group learning project for teaching a core competency in comparative politics: constitutional structures. We use a quasi-experimental design and propensity score matching to assess the value of a consti- tutional writing group project and presentation. The results provide strong evidence that these learning tools are highly valuable for teaching abstract concepts. Students who par- ticipated in the project scored significantly higher on a short series of questions in final exams given several weeks after the completion of the group project. Somewhat paradox- ically, the project increased competency but did not affect student self-reported interest in the subject matter. The challenges and improvements that can be made for the use these types of learning tools concludes the article.
Keywords
simulations,
pedagogy,
comparative politics,
institutional design,
political institutions,
constitutionalism
Publication Date
July, 2012
Citation Information
Miguel Centellas and Gregory J. Love. ""We're Off to Replace the Wizard": Lessons from a Collaborative Group Project Assignment"
PS: Political Science & Politics
(2012)
Available at: http://works.bepress.com/mcentellas/9/