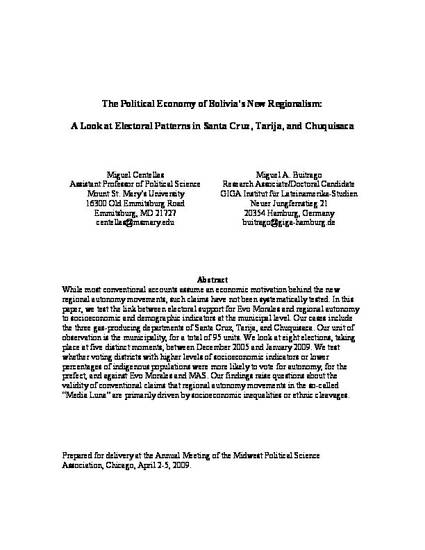 Presentation
The Political Economy of Bolivia's New Regionalism: A Look at Electoral Patterns in Santa Cruz, Tarija, and Chuquisaca
Midwest Political Science Association (2009)
Abstract
While most conventional accounts assume an economic motivation behind the new regional autonomy movements, such claims have not been systematically tested. In this paper, we test the link between electoral support for Evo Morales and regional autonomy to socioeconomic and demographic indicators at the municipal level. Our cases include the three gas-producing departments of Santa Cruz, Tarija, and Chuquisaca. Our unit of observation is the municipality, for a total of 95 units. We look at eight elections, taking place at five distinct moments, between December 2005 and January 2009. We test whether voting districts with higher levels of socioeconomic indicators or lower percentages of indigenous populations were more likely to vote for autonomy, for the prefect, and against Evo Morales and MAS. Our findings raise questions about the validity of conventional claims that regional autonomy movements in the so-called "Media Luna" are primarily driven by socioeconomic inequalities or ethnic cleavages.
Keywords
Bolivia,
electoral systems,
party systems,
regionalism
Publication Date
May, 2009
Citation Information
Miguel Centellas and Miguel A. Buitrago. "The Political Economy of Bolivia's New Regionalism: A Look at Electoral Patterns in Santa Cruz, Tarija, and Chuquisaca"
Midwest Political Science Association
(2009)
Available at: http://works.bepress.com/mcentellas/17/