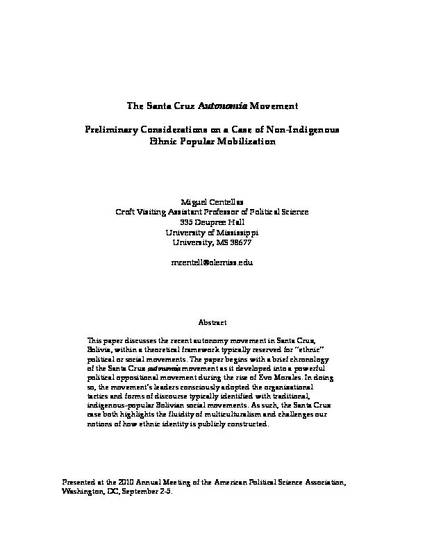 Presentation
The Santa Cruz Autonomía Movement: Preliminary Considerations on a Case of Non-Indigenous Ethnic Popular Mobilization
American Political Science Association (2010)
Abstract
This paper discusses the recent autonomy movement in Santa Cruz, Bolivia, within a theoretical framework typically reserved for "ethnic" political or social movements. The paper begins with a brief chronology of the Santa Cruz autonomía movement as it developed into a powerful political oppositional movement during the rise of Evo Morales. In doing so, the movement's leaders consciously adopted the organizational tactics and forms of discourse typically identified with traditional, indigenous-popular Bolivian social movements. As such, the Santa Cruz case both highlights the fluidity of multiculturalism and challenges our notions of how ethnic identity is publicly constructed.
Keywords
Bolivia,
regionalism,
politics
Publication Date
September, 2010
Citation Information
Miguel Centellas. "The Santa Cruz Autonomía Movement: Preliminary Considerations on a Case of Non-Indigenous Ethnic Popular Mobilization"
American Political Science Association
(2010)
Available at: http://works.bepress.com/mcentellas/13/