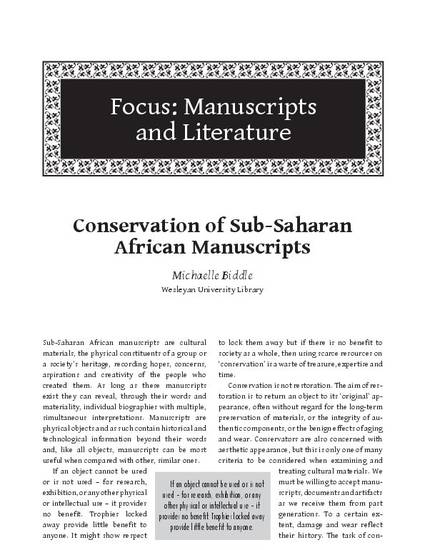 Article
Conservation of sub-Saharan African Manuscripts
Annual Review of Islam in Africa (ARIA) (2014)
Abstract
This paper describes a focused conservation and preservation strategy whereby collections of sub-Saharan manuscripts, or even single manuscript items, are treated in stages, or phases, over a period of time according to a planned and logical sequence of procedures in order to achieve economies of scale and utilize resources most effectively. Also covered are issues that must be considered when conserving these manuscripts as well as the fundamental importance of surface cleaning, foldering, boxing, storage rooms and shelving, storage temperature and humidity control, cleanliness, staff and researcher training, emergency preparedness, item conservation and digitization.
Keywords
sub-Saharan,
manuscripts,
West African,
Islamic,
Arabic,
preservation,
conservation,
restoration
Citation Information
Michaelle L. Biddle. "Conservation of sub-Saharan African Manuscripts"
Annual Review of Islam in Africa (ARIA)
Vol. 12 Iss. 2 (2014)
Available at: http://works.bepress.com/mbiddle/17/