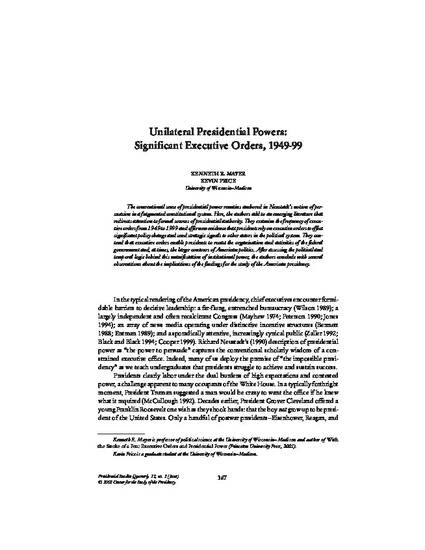 Article
Unilateral Presidential Powers: Significant Executive Orders, 1949-99
Presidential Studies Quarterly (2002)
Abstract
The conventional sense of presidential power remains anchored in Neustadt's notion of persuasion in a fragmented constitutional system.Here, the authors add to an emerging literature that redirects attention to formal sources of presidential authority. They examine the frequency of executive orders from 1949 to 1999 and offer new evidence that presidents rely on executive orders to effect significant policy change and send strategic signals to other actors in the political system. They contend that executive orders enable presidents to recast the organization and activities of the federal government and, at times, the larger contours ofAmerican politics. After assessing the political and temporal logic behind this manifestation of institutional power, the authors conclude with several observations about the implications of the findings for the study of the American presidency.
Keywords
President,
unilateral action,
executive orders
Publication Date
June, 2002
Citation Information
Kenneth R Mayer and Kevin Price. "Unilateral Presidential Powers: Significant Executive Orders, 1949-99"
Presidential Studies Quarterly
Vol. 32 Iss. 2 (2002)
Available at: http://works.bepress.com/mayer/9/