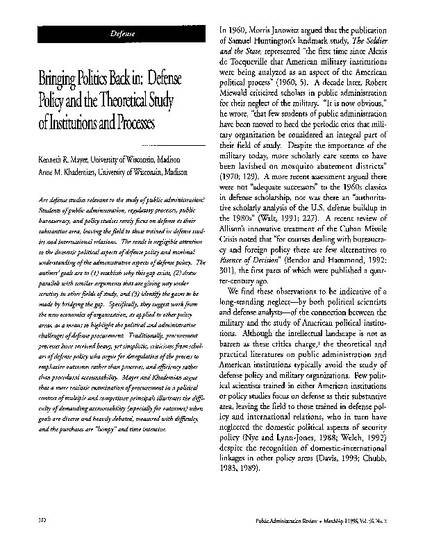 Article
Bringing Politics Back in: Defense Policy and the Theoretical Study of Institutions and Processes
Public Administration Review (1996)
Abstract
Application of public administration theory to defense policy and procruemt. Students of public administration, regulatory processes, public bureaucracy, and policy studies rarely focus on defense as their substantive area. leaving the field to those trained in defense studies and international relations. THe result is negligible attention to the domestic political aspects of defense policy and minimal understanding of the administrative aspects of defense policy. We argue that a realistic examination of procurement in a political context of multiple and competing principals illustrates the difficulty of demanding accountability when goals are diverse and heavily debated, measured with difficulty, and where outcomes are "lumpy" and time intensive.
Keywords
Defense,
contracting,
procurement,
public administration
Publication Date
March, 1996
Citation Information
Kenneth R Mayer and Khademian M Anne. "Bringing Politics Back in: Defense Policy and the Theoretical Study of Institutions and Processes"
Public Administration Review
Vol. 56 Iss. 2 (1996)
Available at: http://works.bepress.com/mayer/11/