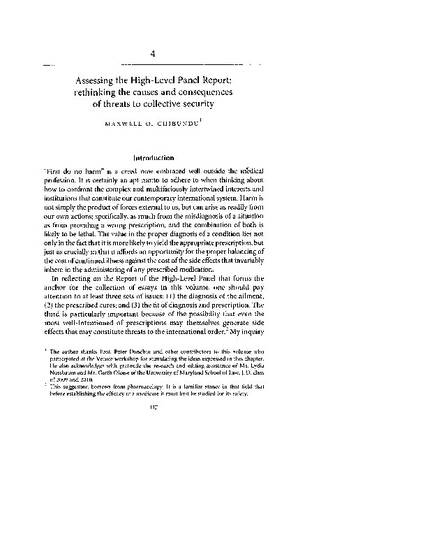 Contribution to Book
Assessing the High-Level Panel Report: Rethinking the Causes and Consequences of Threats to Collective Security
Faculty Scholarship
Document Type
Book Chapter
Publication Date
1-1-2010
Keywords
peace,
security,
Cold War,
harm,
United Nations,
Security Council
Abstract
This is a contribution to a volume of essays anchored in the evaluations of proposed reforms of the United Nations system extant in the middle half of the last decade. The essay's focus is primarily on the role of the Security Council as the provider of collective security within the system. It contends that the term "collective security" has become far too amorphous and too all-embracing to be useful, and that it runs the risk of distorting the proper allocation of power within the international system. It argues for a more circumscribed view of collective security, and for a less centralized approach for its achievement. Coordination and cooperation, rather than coercion, it contends, should be the watchwords of international law.
Citation Information
Peter Danchin and Horst Fischer, eds.,
United Nations Reform and the New Collective Security.
Cambridge University Press, 2010. (EIUC Series in Human Rights and Democratization)