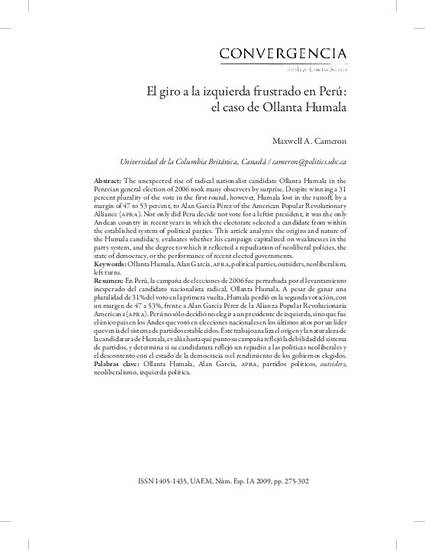 Article
El giro a la izquierda frustrado en Peru: el caso de Ollanta Humala
Convergencia: Revista de Ciencia Politica (2009)
Abstract
The unexpected rise of radical nationalist candidate Ollanta Humala in the Peruvian general election of 2006 took many observers by surprise. This article analyzes the origin and nature of the Humala candidacy, evaluates whether his campaign capitalized on weaknesses in the party system, and the degree to which it reflected a repudiation of neoliberal policies, the state of democracy, or the performance of recent elected governments.
Keywords
Ollanta Humala,
Alan Garcia,
APRA,
political parties,
outsiders,
neoliberalism left turns
Citation Information
Maxwell A. Cameron. "El giro a la izquierda frustrado en Peru: el caso de Ollanta Humala"
Convergencia: Revista de Ciencia Politica
Iss. Num Esp (2009)
Available at: http://works.bepress.com/maxwell_a_cameron/10/