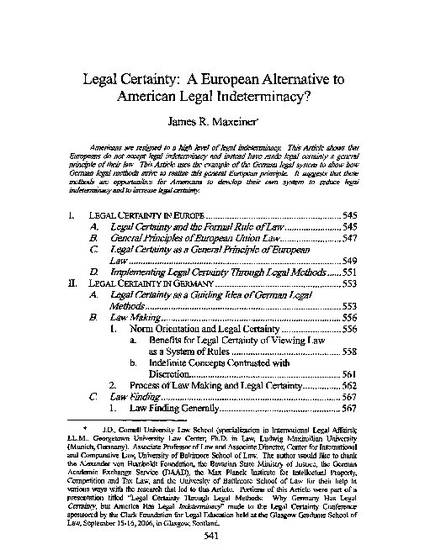 Article
Legal Certainty and Legal Methods: A European Alternative to American Legal Indeterminacy?
All Faculty Scholarship
Publication Date
4-1-2007
Abstract
Americans are resigned to a high level of legal indeterminacy. This Article shows that Europeans do not accept legal indeterminacy and instead have made legal certainty a general principle of their law. This Article uses the example of the German legal system to show how German legal methods strive to realize this general European principle. It suggests that these methods are opportunities for Americans to develop their own system to reduce legal indeterminacy and to increase legal certainty.
Citation Information
Legal Certainty and Legal Methods: A European Alternative to American Legal Indeterminacy?, 15 Tul. J. Int'l & Comp. L. 541 (2007)