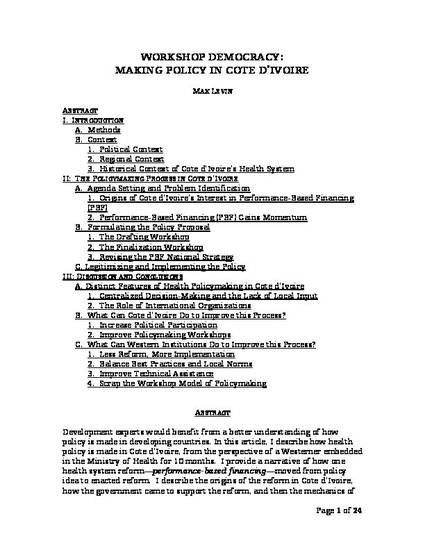 Unpublished Paper
Workshop Democracy: Making Policy in Cote d'Ivoire
ExpressO (2014)
Abstract
Development experts would benefit from a better understanding of how policy is made in developing countries. In this article, I describe how health policy is made in Cote d'Ivoire, from the perspective of a Westerner embedded in the Ministry of Health for 10 months. I provide a narrative of how one health system reform—performance-based financing—moved from policy idea to enacted reform. I describe the origins of the reform in Cote d'Ivoire, how the government came to support the reform, and then the mechanics of how the reform was enacted. I then present observations on how policymaking in Cote d'Ivoire differs from a Western democracy, including a discussion of the part played by local actors and Western organizations such as the World Bank. I conclude with recommendations for both Ivorian and Western technocrats on what practical steps they could take to achieve better reform outcomes.
Keywords
Cote d'Ivoire,
Ivory Coast,
West Africa,
development law,
global health law,
health policy,
policymaking,
policy formulation,
policy implementation,
health reform,
health financing,
health systems research,
performance-based financing,
PBF,
participant observation,
World Bank
Publication Date
November 16, 2014
Citation Information
Max Levin. "Workshop Democracy: Making Policy in Cote d'Ivoire"
ExpressO
(2014)
Available at: http://works.bepress.com/max_levin/1/