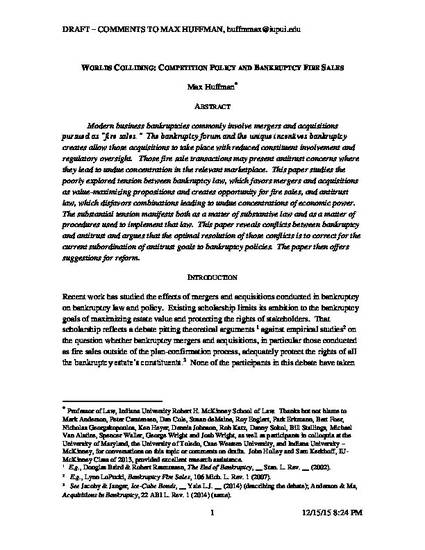 Unpublished Paper
Worlds Colliding: Competition Policy and Bankruptcy Fire Sales
ExpressO (2015)
Abstract
Modern business bankruptcies commonly involve mergers and acquisitions pursued as "fire sales." The bankruptcy forum and the unique incentives bankruptcy creates allow those acquisitions to take place with reduced constituent involvement and regulatory oversight. Those fire sale transactions may present antitrust concerns where they lead to undue concentration in the relevant marketplace. This paper studies the poorly explored tension between bankruptcy law, which favors mergers and acquisitions as value-maximizing propositions and creates opportunity for fire sales, and antitrust law, which disfavors combinations leading to undue concentrations of economic power. The substantial tension manifests both as a matter of substantive law and as a matter of procedures used to implement that law. This paper reveals conflicts between bankruptcy and antitrust and argues that the optimal resolution of those conflicts is to correct for the current subordination of antitrust goals to bankruptcy policies. The paper then offers suggestions for reform.
Publication Date
February 8, 2015
Citation Information
Max Huffman. "Worlds Colliding: Competition Policy and Bankruptcy Fire Sales"
ExpressO
(2015)
Available at: http://works.bepress.com/max_huffman/4/