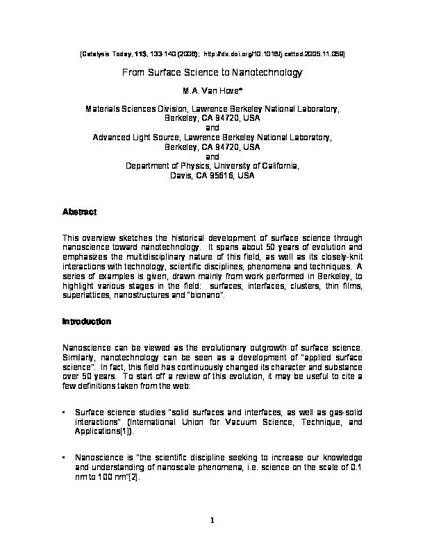 Article
From Surface Science to Nanotechnology
Catalysis Today (2006)
Abstract
This overview sketches the historical development of surface science through nanoscience toward nanotechnology. It spans about 50 years of evolution and emphasizes the multidisciplinary nature of this field, as well as its closely-knit interactions with technology, scientific disciplines, phenomena and techniques. A series of examples is given, drawn mainly from work performed in Berkeley, to highlight various stages in the field: surfaces, interfaces, clusters, thin films, superlattices, nanostructures and "bionano".
Keywords
Surface science ; Nanoscicnce ; Nanotechnology ; Nanostructures ; Nanobiology
DOI
10.1016/j.cattod.2005.11.059
Citation Information
M.A. Van Hove. "From Surface Science to Nanotechnology"
Catalysis Today
Vol. 113 Iss. 3-4 (2006) p. 133 - 140 ISSN: 09205861
Available at: http://works.bepress.com/mavanhove/78/