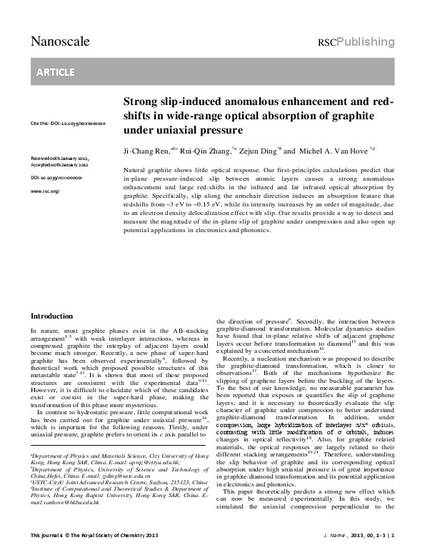 Article
Strong slip-induced anomalous enhancement and red-shifts in wide-range optical absorption of graphite under uniaxial pressure
Nanoscale
Document Type
Journal Article
Abstract
Natural graphite shows little optical response. Based on first-principles calculations, we demonstrate, for the first time, that an in-plane pressure-induced slip between atomic layers causes a strong anomalous enhancement and large red-shifts in the infrared and far infrared optical absorption by graphite. Specifically, a slip along the armchair direction induces an absorption feature that redshifts from rv3 eV to rv0.15 eV, while its intensity increases by an order of magnitude, due to an electron density delocalization effect with slip. Our results provide a way to detect and measure the magnitude of the in- plane slip of graphite under compression and also open up potential applications in electronics and photonics.
Publication Date
1-1-2014
Publisher
Royal Society of Chemistry
Link to Publisher's Edition
http://dx.doi.org/10.1039/C4NR01940G
Citation Information
Ji-Chang Ren, Rui-Qin Zhang, Zejun Ding and Michel Andre Van Hove. "Strong slip-induced anomalous enhancement and red-shifts in wide-range optical absorption of graphite under uniaxial pressure"
Nanoscale
Vol. 6 Iss. 15 (2014) p. 8943 - 8948 ISSN: 20403372
Available at: http://works.bepress.com/mavanhove/39/