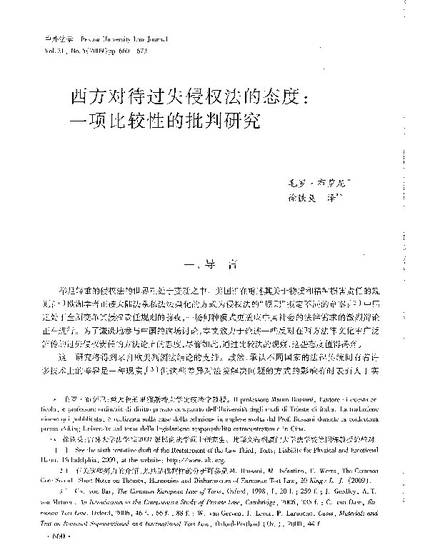 Article
西方对待过失侵权法的态度:一项比较性的批判研究 (Western Attitudes Towards Negligence Law: A Comparative Critique)
Peking L. J. (2009)
Abstract
Black-letter tort law world is in motion. The United States is re-stating its rules of liability for physical and emotional harm, European scholars have been preparing different drafts of tort law 'principles' in view of a European codification, China is on the eve of a comprehensive reform of its tort liability rules, and in the middle of a lively debate on which model better fits the Chinese society's legal needs. To modestly contribute to the latter debate, the paper addresses some methodological attitudes as against negligence liability that are widespread in the Western legal culture, and, nevertheless, are worth being discarded in whatever comparative effort.
Citation Information
Mauro Bussani. "西方对待过失侵权法的态度:一项比较性的批判研究 (Western Attitudes Towards Negligence Law: A Comparative Critique)"
Peking L. J.
Vol. 21 (2009)
Available at: http://works.bepress.com/mauro_bussani/41/