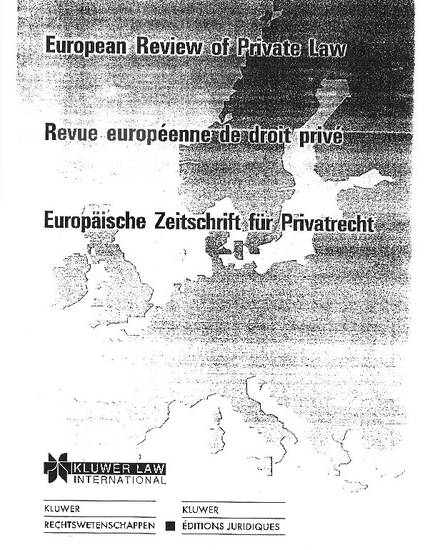 Article
'Integrative' Comparative Law Enterprises and the Inner Stratification of Legal Systems
European Review of Private Law (2000)
Abstract
The essay deals with the features of, and the challenges posed by the initiatives aiming to harmonize European private laws. The first part focuses on the comparison of (overt) methods and (hidden) implications pursued by research-oriented enterprises – such as 'The Common Core Project' or the 'European Case-books Project' –, and the initiatives whose goal is the creation of rules – such as the UNIDROIT Principles or the 'Lando Commission' –. The second part of the article highlights the existence of multi-level legal systems as one of the most important problems any integrative enterprise has to face. The analysis of the legal layers at work within European societies (e.g.: local customary rules, 'national' rules, transnational business rules, EU rules) contributes to make clear the choices any European code drafter – even before addressing the critical issues of the technical, cultural, and political contents of the would-be text – should make about the kind and the level of integration to pursue.
Keywords
Stratification,
Legal Systems
Citation Information
Mauro Bussani. "'Integrative' Comparative Law Enterprises and the Inner Stratification of Legal Systems"
European Review of Private Law
Vol. 8 (2000)
Available at: http://works.bepress.com/mauro_bussani/24/