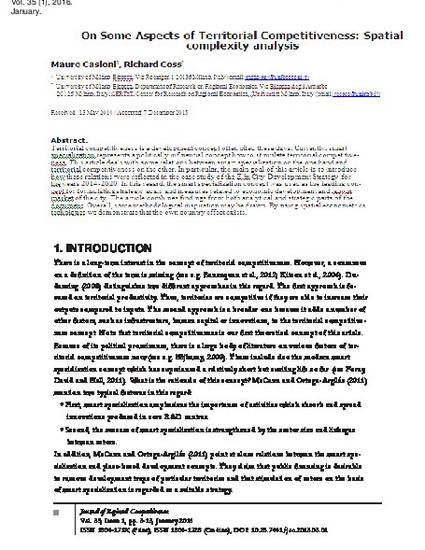 Article
On some aspects of territorial competitiveness: Spatial complexity analaysis
Journal of regional studies (2016)
Abstract
There is a long-term interest in the concept of territorial competitiveness. However, a consensus on a definition of the term is missing (see e.g. Benzaquen et al., 2012; Kitson et al., 2004). Esqueda (2010) distinguishes two different approaches in this regard. The first approach is focused on territorial productivity. Thus, territories are competitive if they are able to increase their outputs compared to inputs. 
Keywords
esda,
spatial analysis,
territorial competitiveness,
regional competitiveness
Publication Date
January, 2016
Citation Information
Casioni, M. and Coss, Richard (2006). On some aspects of territorial competitiveness: Spatial complexity analaysis. Journal of Regional Studies. Vol. 35 (1).