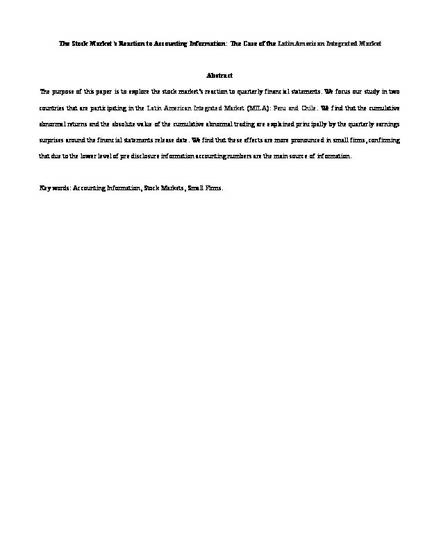 Presentation
The Stock Market's Reaction to Accounting Information: The Case of the Latin American Integrated Market Abstract
2013 Business Association of Latin American Studies Proceedings
Document Type
Conference Proceeding
Publication Date
1-1-2013
Additional Publication URL
http://ww.balas.org/BALAS_2013_proceedings_data/data/20130320.html
Abstract
The purpose of this paper is to explore the stock market's reaction to quarterly financial statements. We focus our study in two countries that are participating in the Latin American Integrated Market (MILA): Peru and Chile. We find that the cumulative abnormal returns and the absolute value of the cumulative abnormal trading are explained principally by the quarterly earnings surprises around the financial statements release date. We find that these effects are more pronounced in small firms, confirming that due to the lower level of pre disclosure information accounting numbers are the main source of information. Key words: Accounting Information, Stock Markets, Small Firms.
Rights
This is an electronic copy of a conference paper. The author(s) retains all rights.
Citation Information
Mauricio A. Melgarejo, Eduardo Montiel and Luis Sanz. "The Stock Market's Reaction to Accounting Information: The Case of the Latin American Integrated Market Abstract"
2013 Business Association of Latin American Studies Proceedings
(2013) p. 1 - 17
Available at: http://works.bepress.com/mauricio-melgarejo/4/