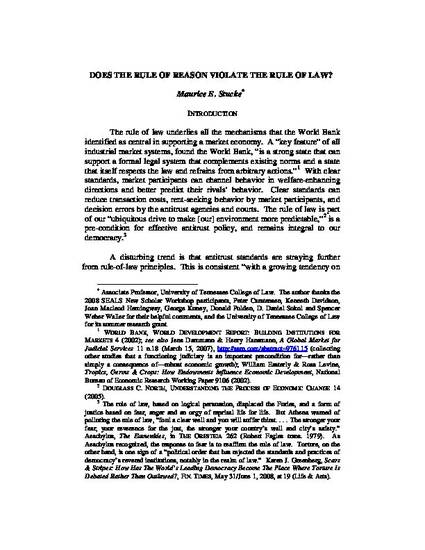 Article
Does the Rule of Reason Violate the Rule of Law?
U.C. DAVIS LAW REVIEW (2009)
Abstract
In the past few years, the Supreme Court has been more active in deciding antitrust issues. The Court's choice of legal standards affects future market behavior and the incentives for individuals and organizations to engage in productive activity. Despites its increased activity, the Court never assesses the deficiencies of its rule-of-reason standard under rule-of-law principles. This assessment is critical. This article analyzes the standard's significant deficiencies, and how these deficiencies adversely affect antitrust enforcement and competition policy generally. Perfect compliance with rule-of-law ideals, however, may be unobtainable and undesirable, so the Article recommends several improvements to reorient the rule of reason closer to rule-of-law ideals.
Keywords
antitrust,
competition policy,
Sherman Act,
rule of reason,
per se,
cartels,
evolutionary economic theory
Citation Information
Maurice E Stucke. "Does the Rule of Reason Violate the Rule of Law?"
U.C. DAVIS LAW REVIEW
Vol. 42 (2009)
Available at: http://works.bepress.com/maurice_stucke/3/