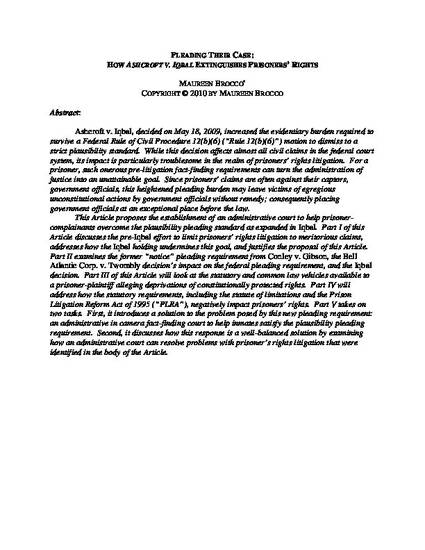 Unpublished Paper
PLEADING THEIR CASE: HOW ASHCROFT V. IQBAL EXTINGUISHES PRISONERS' RIGHTS
ExpressO (2010)
Abstract
Ashcroft v. Iqbal, decided on May 18, 2009, increased the evidentiary burden required to survive a Federal Rule of Civil Procedure 12(b)(6) ("Rule 12(b)(6)") motion to dismiss to a strict plausibility standard. While this decision affects almost all civil claims in the federal court system, its impact is particularly troublesome in the realm of prisoners' rights litigation. For a prisoner, such onerous pre-litigation fact-finding requirements can turn the administration of justice into an unattainable goal. Since prisoners' claims are often against their captors, government officials, this heightened pleading burden may leave victims of egregious unconstitutional actions by government officials without remedy; consequently placing government officials at an exceptional place before the law.
This Article proposes the establishment of an administrative court to help prisoner-complainants overcome the plausibility pleading standard as expanded in Iqbal. Part I of this Article discusses the pre-Iqbal effort to limit prisoners' rights litigation to meritorious claims, addresses how the Iqbal holding undermines this goal, and justifies the proposal of this Article. Part II examines the former "notice" pleading requirement from Conley v. Gibson, the Bell Atlantic Corp. v. Twombly decision's impact on the federal pleading requirement, and the Iqbal decision. Part III of this Article will look at the statutory and common law vehicles available to a prisoner-plaintiff alleging deprivations of constitutionally protected rights. Part IV will address how the statutory requirements, including the statute of limitations and the Prison Litigation Reform Act of 1995 ("PLRA"), negatively impact prisoners' rights. Part V takes on two tasks. First, it introduces a solution to the problem posed by this new pleading requirement: an administrative in camera fact-finding court to help inmates satisfy the plausibility pleading requirement. Second, it discusses how this response is a well-balanced solution by examining how an administrative court can resolve problems with prisoner's rights litigation that were identified in the body of the Article.
Keywords
prisoners' rights,
civil procedure,
ashcroft v. iqbal,
supreme court,
access to courts,
prison litigation reform act,
failure to state a claim
Publication Date
August 9, 2010
Citation Information
Maureen Brocco. "PLEADING THEIR CASE: HOW ASHCROFT V. IQBAL EXTINGUISHES PRISONERS' RIGHTS"
ExpressO
(2010)
Available at: http://works.bepress.com/maureen_brocco/2/