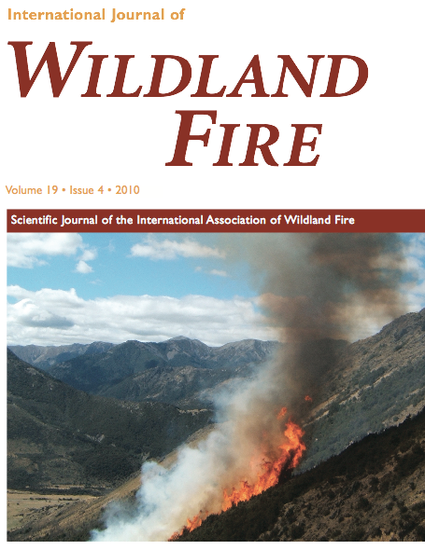 Article
Fuel treatment effects on tree mortality following wildfire in dry mixed conifer forests, Washington State, USA
International Journal of Wildland Fire
Publication Date
1-1-2012
Abstract
Fuel reduction treatments are increasingly used to mitigate future wildfire severity in dry forests, but few opportunities exist to assess their effectiveness. We evaluated the influence of fuel treatment, tree size and species on tree mortality following a large wildfire event in recent thin-only, thin and prescribed burn (thin-Rx) units. Of the trees that died within the first 3 years, most died in the first year regardless of treatment. First-year mortality was much higher in control and thin-only units (65 and 52%) than in thin-Rx units (37%). Cumulative third-year mortality followed a similar trend (78 and 64% in control and thin-only units) v. 43% in thin-Rx units. Percentage crown scorch is a strong predictor of mortality and is highly dependent on fuel treatment. Across all treatments, Pinus ponderosa had a lower probability of post-fire mortality than did Pseudotsuga menziesii. Finally, the probability of beetle attack on surviving trees was highest in large-diameter trees within thin-only treatments and lowest within thin-Rx treatments. This study contributes further evidence supporting the effectiveness of thinning and prescribed burning on mitigating post-fire tree mortality. We also present evidence that a combination of thinning and prescribed burning is associated with lower incidence of post-fire bark beetle attack.
Version
pre-print, post-print
Citation Information
Susan J. Prichard and Maureen C. Kennedy. "Fuel treatment effects on tree mortality following wildfire in dry mixed conifer forests, Washington State, USA"
International Journal of Wildland Fire
Vol. 21 Iss. 8 (2012) p. 1004 - 1013
Available at: http://works.bepress.com/maureen-kennedy/4/