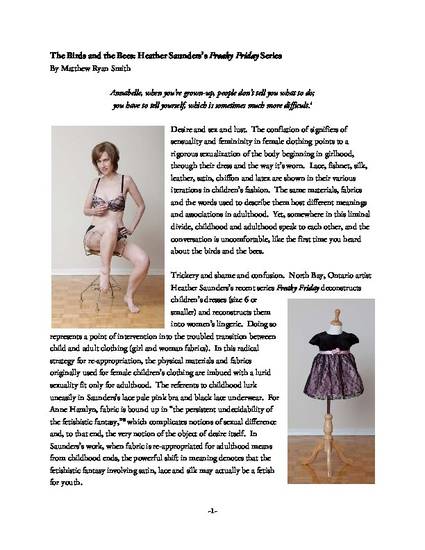 Article
Heather Saunders: The "Freaky Friday" Series
College Art Association ARTexchange Exhibition (2013)
Abstract
Desire and sex and lust. The conflation of signifiers of sensuality and femininity in female clothing points to a rigorous sexualization of the body beginning in girlhood, through their dress and the way it's worn. Lace, fishnet, silk, leather, satin, chiffon and latex are shown in their various iterations in children's fashion. The same materials, fabrics and the words used to describe them host different meanings and associations in adulthood. Yet, somewhere in this liminal divide, childhood and adulthood speak to each other, and the conversation is uncomfortable, like the first time you heard about the birds and the bees.
Keywords
Heather Saunders,
art,
lingerie,
sex,
signifiers,
fabric,
fetish,
clothing
Publication Date
Winter February, 2013
Citation Information
Matthew Ryan Smith, Ph.D.. "Heather Saunders: The "Freaky Friday" Series"
College Art Association ARTexchange Exhibition
(2013)
Available at: http://works.bepress.com/matthewryansmith/48/