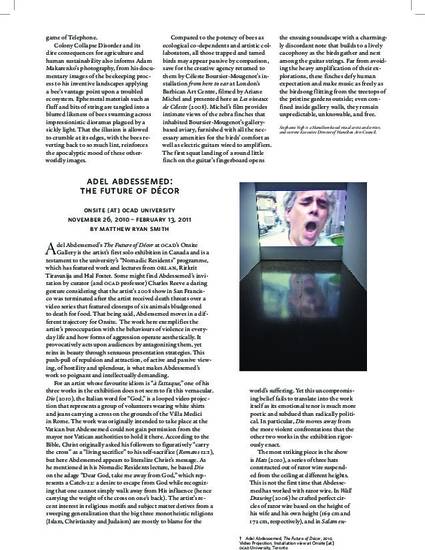 Article
Adel Abdessemed: The Future of Décor
C Magazine (2011)
Abstract
Adel Abdessemed's Future of Décor at OCAD's Onsite Gallery is the artist's first solo exhibition in Canada and is a testament to the university's 'Nomadic Residency' programme, which has featured work and lectures from ORLAN, Rirkrit Tiravanija and Hal Foster. Some may find Abdessemed's invitation by curator (and OCAD professor) Charles Reeve as a daring gesture considering the artist's 2008 show in San Francisco was terminated after the artist received death threats over a video series that featured close-ups of six animals bludgeoned to death for food. That being said, Abdessemed moves in a different trajectory for Onsite. The work here exemplifies the artist's preoccupation with the behaviours of violence in everyday life and how forms of aggression operate aesthetically. It provocatively acts upon audiences by antagonizing them, yet reins in beauty through sensuous presentation strategies. This push-pull of repulsion and attraction, of active and passive viewing, of hostility and splendour is what makes Abdessemed's work so poignant and intellectually demanding.
Keywords
Adel Abdessemed,
The Future of Decor
Publication Date
Fall 2011
Citation Information
Matthew Ryan Smith. "Adel Abdessemed: The Future of Décor"
C Magazine
Iss. 111 (2011)
Available at: http://works.bepress.com/matthewryansmith/21/