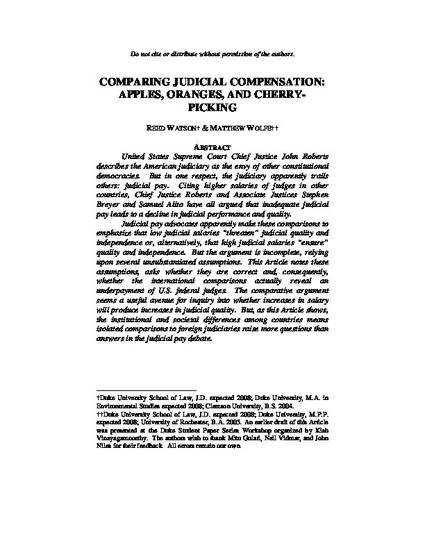 Unpublished Paper
COMPARING JUDICIAL COMPENSATION: APPLES, ORANGES, AND CHERRY-PICKING
ExpressO (2008)
Abstract
United States Supreme Court Chief Justice John Roberts describes the American judiciary as the envy of other constitutional democracies. But in one respect, the judiciary apparently trails others: judicial pay. Citing higher salaries of judges in other countries, Chief Justice Roberts and Associate Justices Stephen Breyer and Samuel Alito have all argued that inadequate judicial pay leads to a decline in judicial performance and quality. Judicial pay advocates apparently make these comparisons to emphasize that low judicial salaries "threaten" judicial quality and independence or, alternatively, that high judicial salaries "ensure" quality and independence. But the argument is incomplete, relying upon several unsubstantiated assumptions. This Article notes these assumptions, asks whether they are correct and, consequently, whether the international comparisons actually reveal an underpayment of U.S. federal judges. The comparative argument seems a useful avenue for inquiry into whether increases in salary will produce increases in judicial quality. But, as this Article shows, the institutional and societal differences among countries means isolated comparisons to foreign judiciaries raise more questions than answers in the judicial pay debate.
Keywords
judicial compensation,
judicial behavior,
supreme court,
foreign high courts,
judicial independence,
judicial performance
Publication Date
March 14, 2008
Citation Information
Matthew W. Wolfe and Reed Watson. "COMPARING JUDICIAL COMPENSATION: APPLES, ORANGES, AND CHERRY-PICKING"
ExpressO
(2008)
Available at: http://works.bepress.com/matthew_wolfe/1/