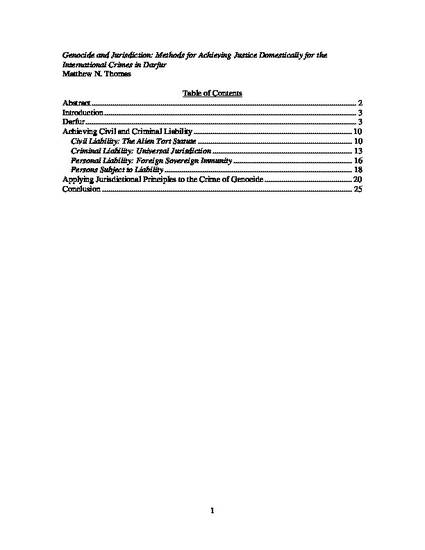 Unpublished Paper
Genocide and Jurisdiction: Methods for Achieving Justice Domestically for the International Crimes in Darfur
ExpressO (2007)
Abstract
The international community as a whole has been reluctant to take action against Sudan for the international crimes being committed in Darfur. However, individual nations, including the United States, have expressed a strong interest in taking proactive measures to achieve justice for those atrocities. Victims of the Sudanese conflict may achieve justice through the domestic courts of the United States. Civilly, the Alien Tort Statute provides a cause of action to foreign citizens for torts committed against them in violation of international law, while the exceptions to the Foreign Sovereign Immunity Act permit personal jurisdiction over individuals acting on behalf of the Sudanese government engaged in genocide. The principles of Universal Jurisdiction also permit the criminal prosecution of genocide in domestic courts. The history of the international crime indicates that the atrocities committed in Darfur qualify as genocide, and, thus, individual nations may take legal action against Sudan.
Keywords
Darfur,
Sudan,
Genocide,
Foreign Sovereign Immunity,
Alien Tort Statute,
Universal Jurisdiction
Publication Date
October 12, 2007
Citation Information
Matthew N. Thomas. "Genocide and Jurisdiction: Methods for Achieving Justice Domestically for the International Crimes in Darfur"
ExpressO
(2007)
Available at: http://works.bepress.com/matthew_thomas/1/