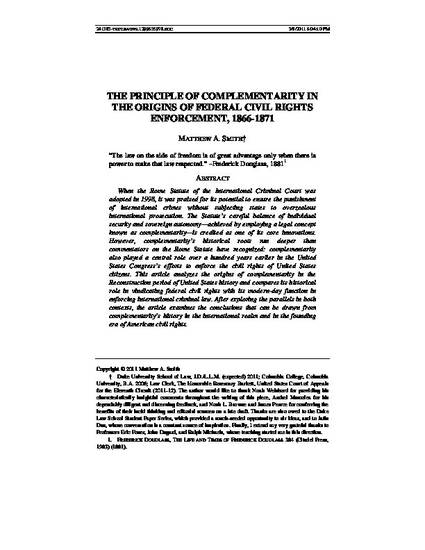 Unpublished Paper
The Principle of Complementarity in the Origins of Federal Civil Rights Enforcement, 1866-1871
ExpressO (2011)
Abstract
When the Rome Statute of the International Criminal Court was adopted in 1998, it was praised for its potential to ensure the punishment of international crimes without subjecting states to overzealous international prosecution. The Statute's careful balance of individual security and sovereign autonomy—achieved by employing a legal concept known as complementarity—is credited as one of its core innovations. However, complementarity's historical roots run deeper than commentators on the Rome Statute have recognized: complementarity also played a central role over a hundred years earlier in the United States Congress's efforts to enforce the civil rights of United States citizens. This article analyzes the origins of complementarity in the Reconstruction period of United States history and compares its historical role in vindicating federal civil rights with its modern-day function in enforcing international criminal law. After exploring the parallels in both contexts, the article examines the conclusions that can be drawn from complementarity's history in the international realm and in the founding era of American civil rights.
Keywords
Complementarity,
Ku Klux Klan,
Reconstruction,
International Criminal Court
Publication Date
March 8, 2011
Citation Information
Matthew A Smith. "The Principle of Complementarity in the Origins of Federal Civil Rights Enforcement, 1866-1871"
ExpressO
(2011)
Available at: http://works.bepress.com/matthew_smith/2/