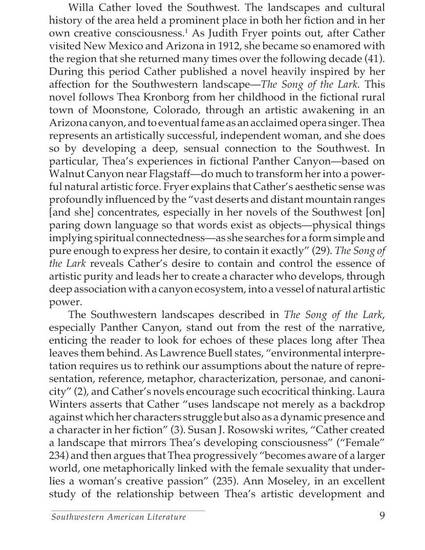 Article
'Willa Cather's 'River of Silver Sound': Woman as Ecosystem in The Song of the Lark
Southwestern Amreican Literature (2004)
Abstract
Willa Cather loved the Southwest. The landscapes and cu ltural history of the area held a prominent place in both her fiction and in her own creative consciousness.1 As Judith Fryer points out, after Cather visited New Mexico and Arizona in 1912, she became so enamored with the region that she returned many times over the fol lowing decade (41). During this period Cather published a novel heavily inspired by her affection for the Southwestern landscape-The Song of the Lark. This novel fol lows Thea Kronborg from her childhood in the fictional rural town of Moonstone, Colorado, through an artistic awakening in an Arizona canyon, and to eventual fame as an acclaimed opera singer. Thea represents an artistically successful, independent woman, and she does so by developing a deep, sensual connection to the Southwest. In particu lar, Thea's experiences in fictional Panther Canyon-based on Walnut Canyon near Flagstaff-do much to transform her into a powerful natural artistic force. Fryer explains that Cather's aesthetic sense was profoundly influenced by the "vast deserts and distant mountain ranges [and she] concentrates, especially in her novels of the Southwest [on] paring down language so that words exist as objects-physical things implying spiritual connectedness-as she searches for a form simple and pure enough to express her desire, to contain it exactly" (29). The Song of the Lark reveals Cather's desire to contain and control the essence of artistic purity and leads her to create a character who develops, through deep association with a canyon ecosystem, into a vessel of natural artistic power.
Citation Information
Matthew Sivils. "'Willa Cather's 'River of Silver Sound': Woman as Ecosystem in The Song of the Lark"
Southwestern Amreican Literature
Vol. 30 Iss. 1 (2004)
Available at: http://works.bepress.com/matthew_sivils/5/