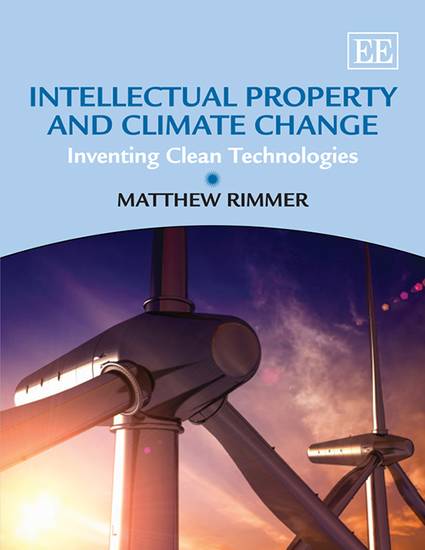 Book
Intellectual Property and Climate Change: Inventing Clean Technologies
(2011)
Abstract
'A historically grounded study on a cutting-edge topic, Intellectual Property and Climate Change has it all. Not only is it well-written, concise, and hugely informative, it is also a timely intervention addressing truly global challenges. Quite simply, a must-read.'
- Eva Hemmungs Wirtén, Uppsala University, Sweden
'Rimmer provides a much needed, well written, authoritative book on the intellectual property aspects of climate change, natural disasters, clean vehicles, and renewable energy. The book is essential reading for those wishing to better understand the complex patent issues involved with transitioning away from our current fossil-dominated economy to a more environmentally sustainable and equitable energy future.'
- Benjamin K. Sovacool, National University of Singapore
In the wake of the international summits in Copenhagen and Cancun, there is an urgent need to consider the role of intellectual property law in encouraging research, development, and diffusion of clean technologies to mitigate and adapt to the effects of climate change.This book charts the patent landscapes and legal conflicts emerging in a range of fields of innovation - including renewable forms of energy, such as solar power, wind power, and geothermal energy; as well as biofuels, green chemistry, green vehicles, energy efficiency, and smart grids.
As well as reviewing key international treaties, this book provides a detailed analysis of current trends in patent policy and administration in key nation states, and offers clear recommendations for law reform. It considers such options as technology transfer, compulsory licensing, public sector licensing, and patent pools; and analyzes the development of Climate Innovation Centres, the Eco-Patent Commons, and environmental prizes, such as the L-Prize, the H-Prize, and the X-Prizes. This book will have particular appeal to policy-makers given its focus upon recent legislative developments and reform proposals, as well as legal practitioners by developing a better understanding of recent legal, scientific, and business developments, and how they affect their practice. Innovators, scientists and researchers will also benefit from reading this book.
Contents:
Preface
Introduction:
The Wizards of Menlo Park: Thomas Edison, General Electric Inc. and Ecomagination
Part I: International Law
1. The Copenhagen Accord and the Cancun Agreements: Intellectual Property, Technology Transfer, and Climate Change
2. The TRIPS Agreement: Intellectual Property, Climate Change, and Disaster Capitalism
3. Energy Poverty: The World Intellectual Property Organization and The Development Agenda
Part II: Patent Law
4. The Clean Technology Revolution: Patent Log-Jams and Fast-Tracks
5. The Toyota Prius: Hybrid Cars, and Patent Trolls
6. 'Clean Energy for America, Power Up America': Patent Law and Compulsory Licensing
Part III: Innovation
7. Climate Innovation Centres: Patent Law and Public Sector Licensing
8. The Eco-Patent Commons: Patent Pools, Clearing-Houses, and Open Innovation
9. Environmental Prizes: The H-Prize, the L-Prize, and the X-Prize
Conclusion: Intellectual Property and Climate Law
Bibliography
Index
Keywords
Intellectual Property,
Climate Change,
Energy,
the Environment,
International Law,
Patent Law,
Innovation,
Copenhagen Accord,
Cancun Agreements,
TRIPS Agreement,
WIPO,
patent administration,
patent litigation,
compulsory licensing,
Climate Innovation Centres,
Commons,
Prizes.
Publication Date
September 1, 2011
Citation Information
Matthew Rimmer,
Intellectual Property and Climate Change: Inventing Clean Technologies
, Cheltenham (UK) and Northampton (Mass.): Edward Elgar, September 2011, http://www.e-elgar.co.uk/bookentry_main.lasso?id=13601 (forthcoming).