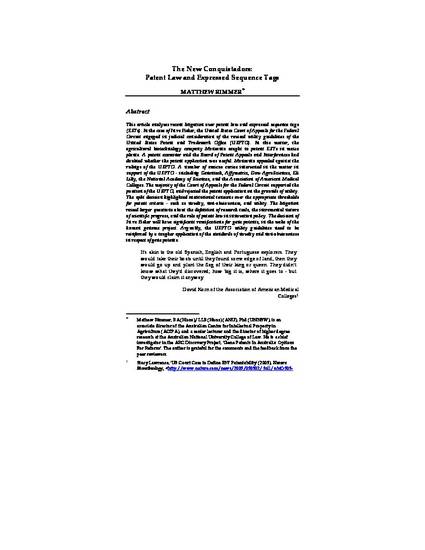 Popular Press
The New Conquistadors: Patent Law and Expressed Sequence Tags
The Journal of Law, Information, and Science (2007)
Abstract
"It's akin to the old Spanish, English and Portuguese explorers. They would take their boats until they found some edge of land, then they would go up and plant the flag of their king or queen. They didn't know what they'd discovered; how big it is, where it goes to— but they would claim it anyway."
David Korn of the Association of American Medical Colleges
This article analyses recent litigation over patent law and expressed sequence tags (ESTs). In the case of In re Fisher, the United States Court of Appeals for the Federal Circuit engaged in judicial consideration of the revised utility guidelines of the United States Patent and Trademark Office (USPTO). In this matter, the agricultural biotechnology company Monsanto sought to patent ESTs in maize plants. A patent examiner and the Board of Patent Appeals and Interferences had doubted whether the patent application was useful. Monsanto appealed against the rulings of the USPTO. A number of amicus curiae intervened in the matter in support of the USPTO - including Genentech, Affymetrix, Dow AgroSciences, Eli Lilly, the National Academy of Sciences, and the Association of American Medical Colleges. The majority of the Court of Appeals for the Federal Circuit supported the position of the USPTO, and rejected the patent application on the grounds of utility. The split decision highlighted institutional tensions over the appropriate thresholds for patent criteria – such as novelty, non-obviousness, and utility. The litigation raised larger questions about the definition of research tools, the incremental nature of scientific progress, and the role of patent law in innovation policy. The decision of In re Fisher will have significant ramifications for gene patents, in the wake of the human genome project. Arguably, the USPTO utility guidelines need to be reinforced by a tougher application of the standards of novelty and non-obviousness in respect of gene patents.
Keywords
Gene Patents,
Expressed Sequence Tags,
Utility Guidelines.
Publication Date
July 1, 2007
Citation Information
Matthew Rimmer. "The New Conquistadors: Patent Law and Expressed Sequence Tags"
The Journal of Law, Information, and Science
Vol. 16 (2007)
Available at: http://works.bepress.com/matthew_rimmer/9/