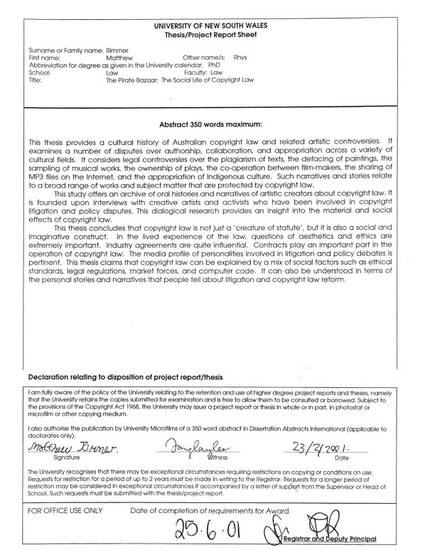 Dissertation
The Pirate Bazaar: The Social Life of Copyright Law
(2001)
Abstract
This thesis provides a cultural history of Australian copyright law and related artistic controversies. It examines a number of disputes over authorship, collaboration, and appropriation across a variety of cultural fields. It considers legal controversies over the plagiarism of texts, the defacing of paintings, the sampling of musical works, the ownership of plays, the co-operation between film-makers, the sharing of MP3 files on the Internet, and the appropriation of Indigenous culture. Such narratives and stories relate to a broad range of works and subject matter that are protected by copyright law.
This study offers an archive of oral histories and narratives of artistic creators about copyright law. It is founded upon interviews with creative artists and activists who have been involved in copyright litigation and policy disputes. This dialogical research provides an insight into the material and social effects of copyright law.
This thesis concludes that copyright law is not just a 'creature of statute', but it is also a social and imaginative construct. In the lived experience of the law, questions of aesthetics and ethics are extremely important. Industry agreements are quite influential. Contracts play an important part in the operation of copyright law. The media profile of personalities involved in litigation and policy debates is pertinent. This thesis claims that copyright law can be explained by a mix of social factors such as ethical standards, legal regulations, market forces, and computer code. It can also be understood in terms of the personal stories and narratives that people tell about litigation and copyright law reform.
Table of Contents
Prologue 1
Introduction A Creature of Statute: Copyright Law and Legal Formalism 6
Chapter One The Demidenko Affair: Copyright Law and Literary Works 33
Chapter Two Daubism: Copyright Law and Artistic Works 67
Chapter Three The ABCs of Anarchism: Copyright Law and Musical Works 105
Chapter Four Heretic: Copyright Law and Dramatic Works 146
Chapter Five Shine: Copyright Law and Film 186
Chapter Six Napster: Infinite Digital Jukebox or Pirate Bazaar? Copyright Law and Digital Works 232
Chapter Seven Bangarra Dance Theatre: Copyright Law and Indigenous Culture 275
Chapter Eight The Cathedral and the Bazaar: The Future of Copyright Law 319
Keywords
Copyright Law,
Creative Artists,
Plagiarism,
Daubism,
Musical Sampling,
Theatrical Collaborations,
Cinematographic Films,
Peer-to-Peer Networks,
Traditional Knowledge.
Publication Date
February, 2001
Citation Information
Matthew Rimmer. "The Pirate Bazaar: The Social Life of Copyright Law" (2001)
Available at: http://works.bepress.com/matthew_rimmer/40/