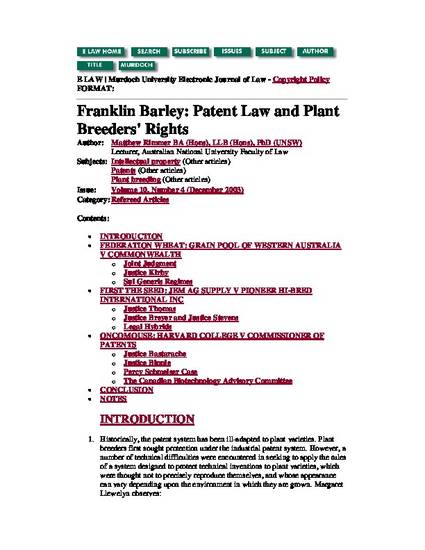 Popular Press
Franklin Barley: Patent Law and Plant Breeders' Rights
Murdoch University Electronic Journal of Law (2003)
Abstract
This paper considers the relationship between patent law and plant breeders' rights in light of modern developments in biotechnology. It examines how a number of superior courts have sought to manage the tensions and conflicts between these competing schemes of intellectual property protection. Part 1 considers the High Court of Australia case of Grain Pool of Western Australia v the Commonwealth dealing with Franklin barley. Part 2 examines the significance of the Supreme Court of the United States decision in JEM Ag Supply Inc v Pioneer Hi-Bred International Inc with respect to utility patents and hybrid seed. Part 3 considers the Supreme Court of Canada case of Harvard College v the Commissioner of Patents dealing with the transgenic animal, oncomouse, and discusses its implications for the forthcoming appeal from the Federal Court case of Percy Schmeiser v Monsanto.
Keywords
Patent law,
plant breeders' rights,
biotechnology,
constitutional law,
law and technology,
franklin barley,
hybrid seed,
GM canola,
transgenic animals.
Publication Date
December 1, 2003
Citation Information
Matthew Rimmer. "Franklin Barley: Patent Law and Plant Breeders' Rights"
Murdoch University Electronic Journal of Law
Vol. 10 Iss. 4 (2003)
Available at: http://works.bepress.com/matthew_rimmer/27/