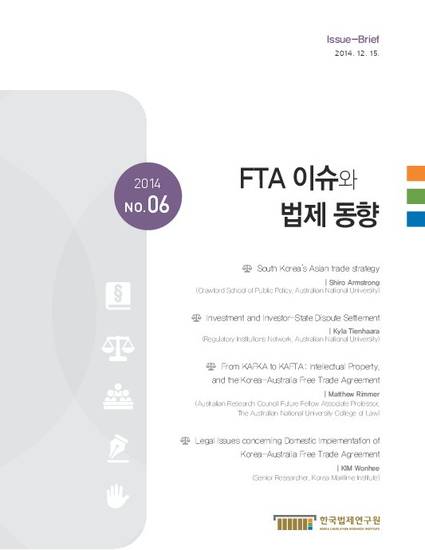 Article
From Kafka to KAFTA: Intellectual Property, and the Korea-Australia Free Trade Agreement
Korea Legislation Research Institute Issues Paper (2014)
Abstract
The Korea-Australia Free Trade Agreement 2014 (KAFTA) is a Kafkaesque agreement – with its secret texts, speculative claims, and shadowy tribunals. Australia and South Korea have signed a new free trade agreement - the Korea-Australia Free Trade Agreement2014 (KAFTA). Is it a fair trade fairytale? Or is it a dirty deal done dirt cheap? Or somewhere in between? It is hard to tell, given the initial secrecy of the negotiations, and the complexity of the texts of the agreement. There has been much debate in the Australian Parliament over the transparency of the trade agreement; the scope of market access provided under the deal; the impact of the investment chapter, with its investor-state dispute settlement clause; the intellectual property chapter; the environment chapter; its impact upon public health; and the labor rights chapter. The agreement was reviewed by the Joint Standing Committee on Treaties, and the Senate Standing Committee on Foreign Affairs, Defence, and Trade. There has been debate about implementing legislation for the agreement, such as the Customs Amendment (Korea-Australia Free Trade Agreement Implementation) Bill 2014 (Cth). KAFTA provides an indication of the approach of the new Conservative Government in Australia to other trade deals – such as the Trans-Pacific Partnership.
Keywords
KAFTA,
Korea,
Australia,
Copyright,
Patent,
Trademark,
Law.,
Franz Kafka
Publication Date
December 22, 2014
Citation Information
Matthew Rimmer. "From Kafka to KAFTA: Intellectual Property, and the Korea-Australia Free Trade Agreement"
Korea Legislation Research Institute Issues Paper
(2014)
Available at: http://works.bepress.com/matthew_rimmer/219/