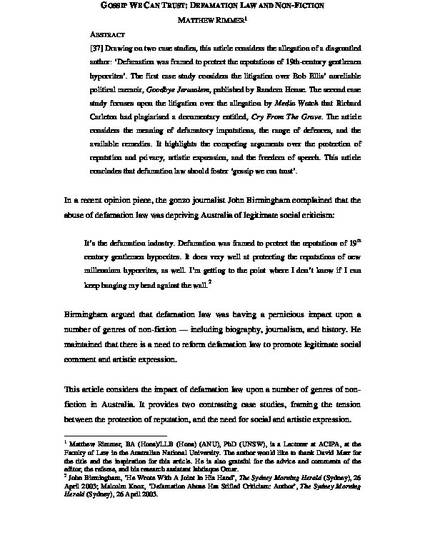 Popular Press
Gossip We Can Trust: Defamation Law and Non-Fiction
Media and Arts Law Review (2004)
Abstract
Drawing on two case studies, this article considers the allegation of a disgruntled author: 'Defamation was framed to protect the reputations of 19th century gentlemen hypocrites'. The first case study considers the litigation over Bob Ellis' unreliable political memoir, 'Goodbye Jerusalem', published by Random House. The second case study focuses upon the litigation over the allegation by Media Watch that Richard Carleton had plagarised a documentary entitled 'Cry from the Grave'. The article considers the meaning of defamatory imputations, the range of defences, and the available remedies. It highlights the competing arguments over the protection of reputation and privacy, artistic expression, and the freedom of speech. This article concludes that defamation law should foster 'gossip we can trust'.
Keywords
Defamation law,
law and literature,
biography,
history,
gossip,
non-fiction,
'faction',
television journalism,
mixed genres
Publication Date
March 1, 2004
Citation Information
Matthew Rimmer. "Gossip We Can Trust: Defamation Law and Non-Fiction"
Media and Arts Law Review
Vol. 9 Iss. 1 (2004)
Available at: http://works.bepress.com/matthew_rimmer/20/