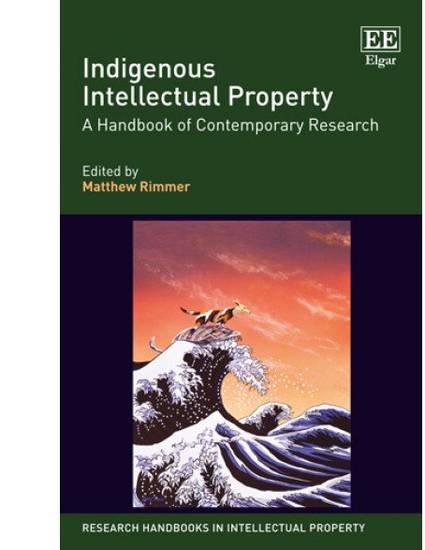 Book
Indigenous Intellectual Property: A Handbook of Contemporary Research
(2015)
Abstract
In light of the United Nations Declaration on the Rights of Indigenous Peoples 2007, this volume considers the international struggle to provide for proper and just protection of Indigenous intellectual property. Leading scholars consider legal and policy controversies over Indigenous knowledge in the fields of international law, copyright law, trademark law, patent law, trade secrets law, and cultural heritage. This collection examines national developments in Indigenous intellectual property in the United States, Canada, South Africa, the European Union, Australia, New Zealand, and Indonesia. As well as examining the historical origins of conflicts over Indigenous knowledge, the volume examines new challenges to Indigenous intellectual property from emerging developments in information technology, biotechnology, and climate change.
The Legacy of David Unaipon
Introduction: Mapping Indigenous Intellectual Property
1. The United Nations Declaration on the Rights of Indigenous Peoples: A Human Rights Framework for Intellectual Property Rights
2. The World Trade Organization, The TRIPS Agreement and Traditional Knowledge
3. The World Intellectual Property Organization and Traditional Knowledge
4. The World Indigenous Network: Rio+20, Intellectual Property, Indigenous Knowledge, and Sustainable Development
PART II COPYRIGHT LAW AND RELATED RIGHTS
5. Government Man, Government Painting? David Malangi and the 1966 One-Dollar Note
7. Avatar Dreaming: Indigenous Cultural Protocols and Making Films Using Indigenous Content
8. The Australian Resale Royalty Right for Visual Artists: Indigenous Art and Social Justice
Robert Dearn and Matthew Rimmer
PART III TRADE MARK LAW AND RELATED RIGHTS 
9. Indigenous Cultural Expression and Registered Designs
10. The Indian Arts and Crafts Act: The Limits of Trademark Analogies
11. Protection of Traditional Cultural Expressions within the New Zealand Intellectual Property Framework: A Case Study of the Ka Mate Haka
12 Geographical Indications and Indigenous Intellectual Property
PART IV PATENT LAW AND RELATED RIGHTS
13. Pressuring 'Suspect Orthodoxy': Traditional Knowledge and the Patent System
14. The Nagoya Protocol: Unfinished Business Remains Unfinished
15. Legislating on Biopiracy in Europe: Too Little, too Late?
16. Intellectual Property, Indigenous Knowledge, and Climate Change
PART V PRIVACY LAW AND IDENTITY RIGHTS
17. Confidential Information and Anthropology: The Politics of the Digital Knowledge Economy
18. Indigenous Cultural Heritage in Australia: The Control of Living Heritages
19. Dignity, Trust and Identity: Private Spheres and Indigenous Intellectual Property
20. Racial Discrimination Laws as a Means of Protecting Collective Reputation and Identity
PART VI INDIGENOUS INTELLECTUAL PROPERTY: REGIONAL PERSPECTIVES
21. Diluted Control: A Critical Analysis of the WAI 262 Report on Maori Traditional Knowledge and Culture
22. Traditional Knowledge Governance Challenges in Canada
Jeremy de Beer and Daniel Dylan
23. Intellectual Property Protection of Traditional Knowledge and Access to Knowledge in South Africa
24. Traditional Knowledge Sovereignty: The Fundamental Role of Customary Law in Protection of Traditional Knowledge
Keywords
Indigenous Intellectual Property,
Copyright Law,
Patent Law,
Trademark Law,
Designs Law,
Confidential Information,
Privacy,
Cultural Heritage,
Native Title,
Traditional Knowledge,
Traditional Cultural Expressions
Publication Date
December, 2015
Citation Information
Matthew Rimmer. Indigenous Intellectual Property: A Handbook of Contemporary Research. Cheltenham (UK) and Northampton (Mass.)(2015)
Available at: http://works.bepress.com/matthew_rimmer/190/