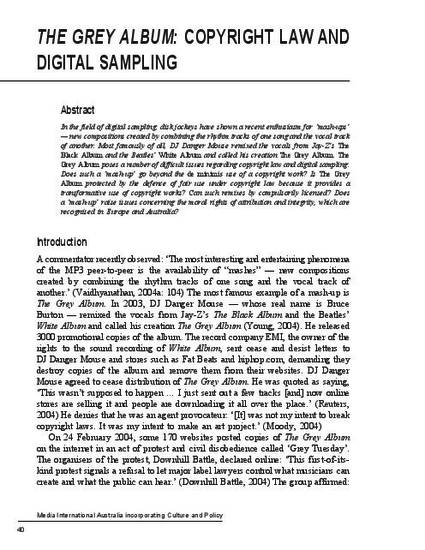 Popular Press
The Grey Album: Copyright Law and Digital Sampling
Media International Australia Incorporating Culture and Policy (2005)
Abstract
In the field of digital sampling, disk jockeys have shown a recent enthusiasm for 'mash-ups' - new compositions created by combining the rhythm tracks of one song and the vocal track of another. Most famously of all, DJ Danger Mouse remixed the vocals from Jay-Z's The Black Album and the Beatles' White Album and called his creation The Grey Album. The Grey Album poses a number of difficult issues regarding copyright law and digital sampling. Does such a 'mash-up' go beyond the de minimis use of a copyright work? Is The Grey Album protected by the defence of fair use under copyright law because it provides a transformative use of copyright works? Can such remixes be compulsorily licensed? Does a 'mash-up' raise issues concerning the moral rights of attribution and integrity, which are recognised in Europe and Australia?
Keywords
Copyright law,
musical works,
sound recordings,
digital sampling,
mash-ups,
de minimis use,
defence of fair use,
creative commons licences,
compulsory licensing,
moral rights of attribution and integrity,
DJ Dangermouse,
The Grey Album,
Jay-Z,
and The Beatles.
Publication Date
February 1, 2005
Citation Information
Matthew Rimmer. "The Grey Album: Copyright Law and Digital Sampling"
Media International Australia Incorporating Culture and Policy
Vol. 114 (2005)
Available at: http://works.bepress.com/matthew_rimmer/16/