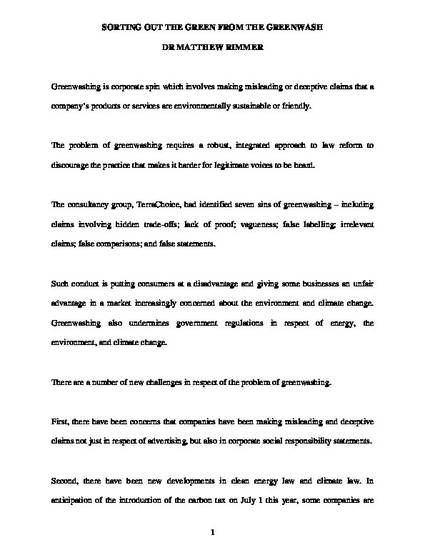 Popular Press
Sorting out the Green From the Greenwash
WME - Water, Materials, Energy - Environment Business Magazine, (2012)
Abstract
Greenwashing is corporate spin which involves making misleading or deceptive claims that a company's products or services are environmentally sustainable or friendly.
The problem of greenwashing requires a robust, integrated approach to law reform to discourage the practice that makes it harder for legitimate voices to be heard.
The consultancy group, TerraChoice, had identified seven sins of greenwashing – including claims involving hidden trade-offs; lack of proof; vagueness; false labelling; irrelevant claims; false comparisons; and false statements. Such conduct is putting consumers at a disadvantage and giving some businesses an unfair advantage in a market increasingly concerned about the environment and climate change. Greenwashing also undermines government regulations in respect of energy, the environment, and climate change.
There are a number of new challenges in respect of the problem of greenwashing. First, there have been concerns that companies have been making misleading and deceptive claims not just in respect of advertising, but also in corporate social responsibility statements. Second, there have been new developments in clean energy law and climate law. In anticipation of the introduction of the carbon tax on July 1 this year, some companies are running marketing campaigns that boost their environmental credentials – particularly with regard to climate change. Third, there are significant new developments in respect of information technology law. In regard to domain names the Internet Corporation for Assigned Names and Numbers (ICANN) is about to auction the top level domain Dot Eco. There is a need to ensure that the winning bid is truly driven by community concerns for environmental sustainability, and has a clear plan to address the problem of greenwashing.
In light of these new developments, law reform and tougher legal sanctions to stop greenwashing are critical. There is a need for a robust, integrated approach to law reform. There is a need to update and reform advertising law, consumer law, and trade mark law to discourage companies from engaging in greenwashing.
Keywords
Greenwashing,
Trade Mark Law,
Advertising,
Consumer Law,
Domain Names.
Publication Date
March, 2012
Citation Information
Matthew Rimmer. "Sorting out the Green From the Greenwash"
WME - Water, Materials, Energy - Environment Business Magazine,
(2012)
Available at: http://works.bepress.com/matthew_rimmer/110/